[ad_1]
Vasja Veber and Matej Gregorčič were managing superstar Slovenian techno DJ UMEK, when they realized they had a problem.
They were looking for a data-driven platform that could measure the impact of different factors on UMEK's career, like his album releases, tours, or ad campaigns.
But as Veber explains: "We couldn't find tools that would do the job for us."
So, they created their own.
UMEK's management team, Gregorčič and Veber, along with UMEK himself (real name Uroš Umek) co-founded and started developing the platform that would become what is known today as, Viberate.
Veber notes that the early version of Viberate only covered "about 2%" of what the company offers now. The Slovenia-headquartered music data company now claims to be one of the top three music data analytics services in the world.
"At the beginning, we didn't have any plans as it was only a tool for our management business," he says. "But very soon we realized we aren't the only ones who need such a tool so we raised our seed round, gave up management and went full-time on Viberate."
Launched a little over eight years ago, the company has since grown from 5 to 35 full-time employees, plus around 120 external database curators.
Viberate Analytics platform offers stats on hundreds of thousands of artists, labels, venues, festivals, and around 60 million songs. The company also works with thousands of clients, including major record companies, indy labels, DSPs, distributors, promoters and more.
Over the past few months, Viberate has been ramping up its services, launching an artist chart targeted for use by A&R teams, featuring genre, performance, fanbase, and geolocation filters.
The chart, Viberate claims, makes it easier to discover new talent around the world. It's informed by streaming and social media data and can be filtered by country, genre, and performance.
The company believes the chart has the potential to change the way A&R teams identify rising acts. "You simply type in the minimum number of monthly listeners an artist needs to have and – bam – you end up with a tight list of unsigned artists with great Spotify engagement," explains Veber.
The company also recently launched its new Viberate for Artists platform for independent musicians.
It offers music distribution to all major streaming platforms, plus booking and promotion tools, playlist and festival pitching, a free one-sheet tool, and professional artist analytics covering streaming and social media channels.
Also, via the new hub, Viberate will offer funding for independent musicians in the form of advances of up to $1 million on future streaming royalties.
Here, Veber gives us insight into the inner workings of Viberate, tells us more about the Viberate for Artists platform, and offers his predictions for the future of the independent artist space…
In January, Viberate cut the cost of its full service from $129 per month to $9.90. Why did you make this move, and tell us about the results so far?
We want to offer access to premium analytics to a wider audience, not just big companies that can afford to pay $129 per month. Also, as I mentioned that there are only a handful of such services on the market, so we don't want to have users switch from their current service to Viberate. Instead, we want to enable them to start using Viberate on top of what they are already using.
We offer features that others don't and vice versa, so using more than one music data analytics service will definitely give you a better result and will enable you to base your decisions on good data.
However, paying a couple of hundred dollars per month can be costly, especially if you have a big team, so we decided to match our monthly price with an average subscription for a streaming service. And since everyone and their mother is using Spotify or Apple Music, we figured that should be our price too. I announced the price drop during an interview at a music conference in front of a couple thousand attendees and my phone started spilling out Stripe payment notifications before the interview was over. It was the best possible validation of our hypothesis.
---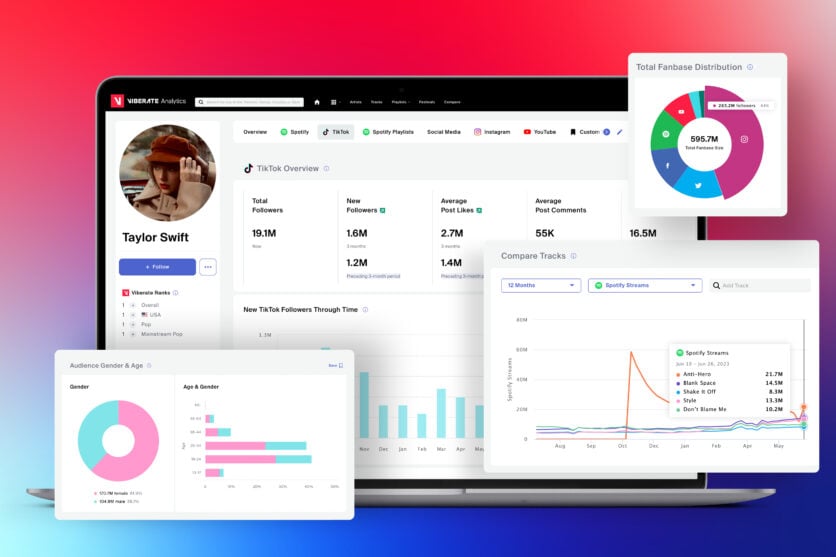 ---
In May, Viberate announced a new artist chart that features genre, performance, fanbase and geolocation filters. Can you tell us more about what drives this chart and who it is targeted towards?
A&R is the most common use case on Viberate and it is done in the chart section. It's actually quite easy to discover trending artists by using our filters. You select the main genre and then the subgenre to do the initial filtering. Then you start playing with performance filters, where you can ask our service to filter out established names who are signed to a label already. For instance, you can set the chart so that it doesn't show the top 30,000 artists globally, which will hide the Ed Sheerans and Taylor Swifts of this world.
Then, you select your favorite channel and your go-to metric and set the minimum threshold. Let's say, you usually go to Spotify to look for interesting talent. You simply type in the minimum number of monthly listeners an artist needs to have and – bam – you end up with a tight list of unsigned artists with great Spotify engagement.
It sure does matter how many artists a service is analyzing, but it matters more what kind of filtering and data integrity the service is offering and here Viberate is a definite leader.
You'll start browsing through hundreds of thousands of artist profiles, but with only a handful of filters, we will get that number down to a manageable list of really relevant musicians in a subgenre of your interest. I usually demonstrate this by showing how you can put together a list of promising techno artists and in less than a minute I generate a chart of less than a hundred trending techno acts.
From there on it is up to you to browse through their comprehensive analytics profiles to figure out who would be a good fit for your label or a festival.
---
The wider Viberate platform currently ranks and analyzes over 700,000 artists. Can you tell us more about the technology that underpins your platform?
We actually analyze over 4 million musicians, but we feature a little over 850,000 verified profiles. That means that our editorial team checked their profile to make sure everything on it is on point. We don't simply scrape a bunch of data from everywhere and dump it on the platform because that gives terrible results. Instead, we let artists and fans add profiles into the service and then we manually verify them. It is a slightly slower process but the result is way better.
When potential clients ask me how we are different from the competition, my first answer is always that we have by far the cleanest dataset".
Verifying profiles also means that we only have one profile for one artist, so we make sure that all the data we have, let's say, for Jay-Z, is included in one single profile. It often happens that artists have multiple profiles (like Jay-Z, JayZ, Jay Z), sometimes they have a feature with another artist and that feature is then tagged as a completely new artist, so the stats aren't included in the main profile. We make sure that all those data anomalies that are mostly a result of lack of proper standardization, are taken care of.
---
Last month, you launched Viberate for Artists offering music distribution to all major streaming platforms, including Spotify, YouTube, Apple Music, Amazon Music, and Tencent Music. Why did you decide to launch this platform at this time / and what is your ambition for it?
Distribution is just one piece of the puzzle. Viberate for Artists offers everything a DIY artist needs in one place and for the price of an average DIY distro service.
So, for the price artists are now paying only for distribution ($39 per year), Viberate for Artists offers unlimited digital distribution, playlist and festival pitching tools, auto-updated personal websites with booking forms, and limited access to our analytics platform. We have also just added advances.
---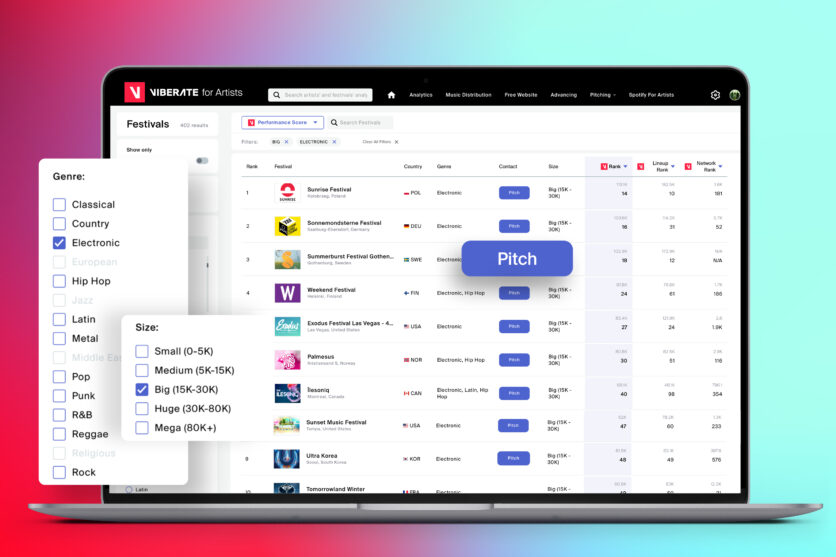 ---
Viberate will also offer indie artists advances of up to $1m on future streaming royalties via the hub. What are your predictions for the artist financing sector in years to come and how does Viberate want to be positioned in the space?
We didn't want to become yet another service that is offering advances, because the segment is already very well served with amazing services like Beatbread or Duetti. So in the future, we also plan to let artists mint NFTs and offer them to their fans.
 This means artists don't sell their copyright, they only offer it as collateral for whatever amount they are raising. Whoever holds the token can then recoup the advance through streaming royalties at a pre-set recoupment rate.
Looking ahead – the main difference with NFTs, aside from enabling fans to fund the careers of their favorite artist and make money by doing it, is that the tokens are easily transferable, meaning that if you want to liquidate your investment before the expected deadline, you can simply sell the token to someone else or even the original rightsholder, so artists can buy back their tokens anytime they want.
So let's say your favorite indie rock band wants to raise $10,000 by putting some of their songs up for collateral. You buy $1,000 worth of tokens and that will bring you $1,300 in three years. But three months in, the track is featured on a major Spotify playlist so their streams shoot up. You see you will recoup your investment much sooner, so you can wait, or you can sell the token immediately for a bit less to someone else.
---
What are the biggest challenges for independent artists today?
Breaking out has always been a challenge. The only difference is that in the 80's you needed to get out and play in bars, hoping that you'll get seen by a label exec, whereas now you need to make sure your streaming and social stats are growing fast enough to pop up on our radar.
So, I'd say that accessing and knowing how to use stats in your favor can also be a challenge. The artist market is way more crowded than decades ago and that makes it increasingly hard to stick out of the crowd and even if you manage to stick out you still need someone to see you sticking out. That's where we come in.
Also, not having a manager can be a challenge. You can be an independent artist but it's still good to have someone experienced looking after you. I was shocked to see how little local rock bands here in Ljubljana, where I live, know about the basics of the business such as distribution and publishing. I was talking to a pretty famous band here and was shocked to find out that they only have one album on Spotify and they don't have a clue who their distributor is.
When we wrapped up our meeting they gave me their last CD. I still haven't opened it because I found out I don't have a CD player anywhere, not even in my car. The DIY segment is rapidly growing, but I realized that there are more "traditional" genres where they still have haircuts from the nineties and use technology from that period too.
---
What are your forecasts for the independent artist space more broadly over the coming years?
Back in the day if you wanted all the tools to make it in this business, you needed to get a proper label. Now, almost all the tools are available online, usually for a small fixed fee. Up until recently a big catalyst for major labels was their ability to sign big, fat advances, knowing that if you offer $5M to an 18-year-old kid who sings on TikTok, he or she will have a hard time turning you down. But even that changed and now you can get an advance from an independent service, based only on your historic data.
I think that the DIY segment will continue to grow organically, artists will be more reluctant to sign long-term deals with major labels, and even established artists will get out of their major deals and go back to being independent. Raye did exactly that and it seems like it's working well for her.
I keep repeating a thought I stole from one of my LinkedIn contacts because it effectively describes the current threat the DIY services are posing to traditional music juggernauts. He said something like that: "Labels used to be proactive and were working with artists to build their careers. Nowadays, they are reactive, waiting until artists do the job for them and then reaching out with a deal."
Independence has and should have a high price. With the rise of services catering to independent artists that price became even higher. Traditional players will need to adapt and find new USPs to keep growing their business. Or maybe I'm just saying that because majors are the most hard-to-get clients for us and I'm going above and beyond to even get a call with them. Maybe that's also a part of the problem, who knows.
---
If there was one thing you could change about the music business, what would you change about the music business and why?
I would make it less centralized. It's a global industry, consumed by billions of people everywhere, yet most of the companies are based in four cities: London, New York, Nashville, and LA. 80% of relevant conferences are taking place in the States, which means that if you run a music startup based in Central Europe, you have to work extra hard to make it.
We work in the office during the day and take calls with US-based clients in the evenings. Long-haul flights and horrible jetlags when we attend conferences in the States also don't make our lives easier.
I think we need more public initiatives to build additional music business hubs, especially throughout Europe. The EU should play a more visible role here because I know that cultural development is a pretty high priority in Brussels, I just think they aren't tackling the problem the right way.
Music Business Worldwide
[ad_2]
Source link