[ad_1]
Long-running B.C. band Star Collector is putting out some of its best music.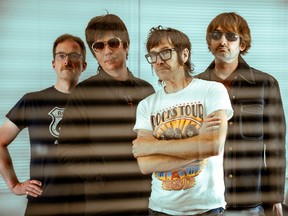 Reviews and recommendations are unbiased and products are independently selected. Postmedia may earn an affiliate commission from purchases made through links on this page.
Article content
Star Collector Attack, Sustain, Decay … Repeat album release
Article content
When: Aug. 11, 7 p.m.
Article content
Where: Fox Cabaret, 2321 Main St., Vancouver
Tickets and info: From $18.18 at eventbrite.ca
---
Star Collector plays a record release show at the Fox Cabaret stage on Aug. 11 — tickets at eventbrite.ca — to showcase Attack, Sustain, Decay … Repeat.
The sixth album from the mod rockers is getting some of the best reviews in the quartet's 25-plus-year career.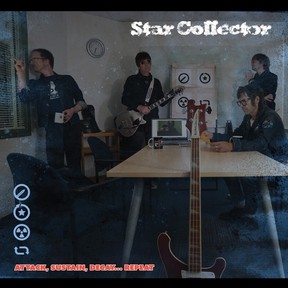 A review in the July 23 issue of Shindig! Magazine awarded the album five stars, the Radio Indie Alliance Top 75 songs' list put the disc in the top 10 and singles such as the hook-laden Beat it to the Death and its slick accompanying video are getting placed across North America and Europe.
For guitarist/singer Vic (Eggman) Wayne, guitarist/vocalist Steve (Mont) Monteith, bassist Tony (Tone) Kerr and drummer/vocalist Adrian (AB) Buckley, it's proof that there is always a community demand for quality music. It just may not be anywhere that the traditional music industry exists.
Article content
For all of those 'grown-up' rockers out there still doing what they do for love and nicknames, Star Collector has an inspirational story.
Article content
"We'd gone steady for a dozen years since starting in the 1990s, releasing the first four albums, playing live and touring," said Wayne. "Then we all took an extended break for recording for family and career demands and just kept up playing for fun. Around 2017 or so, serious business went on in my world, and that got me into writing what became 2021's Game Day.
"Since that album took off, it's been a case of being fully renewed spiritually and waking up every day feeling like you are young again. The joy of making music is hard to replace."
Game Day introduced the group to the exploding fan base online for its brand of vintage mod rock, which boasts influences from Echo and the Bunnymen, Ocean Colour Scene, Oasis and others. From the slashing guitar intro to the album opener Feel it Comin' On to the defiant bounce of the closer Don't Have to Fold, Star Collector plays tight, multi-part harmony tunes that get toes tapping along.
Article content
The sound has made the band friends and collaborators like Soundtrack of Our Lives guitarist Ian Person, Grapes of Wrath and Nothern Pikes' Kevin Kane and actor Mike Myers rock-'n'-roll brother Paul Myers of Paul & John. All of these musicians contributed to Attack, Sustain, Decay … Repeat.
"When Rip it Off from Game Day began getting played all over the place, it was an introduction to this entire global power pop community that were really ferociously invested in the kind of music we do," he said. "One of the DJs who really got behind us was a Brit named Wayne (The Ice Cream Man) Lundqvist-Ford in Gothenburg, Sweden, who was a good friend of Ian Person. I asked if he would introduce us, and within a few days we were working together, even though we've never met."
Article content
Genuinely surprised by the reception for the new music, Star Collector found itself at the centre of snowballing support that has seen the band touring across Canada, Europe and North America playing for "pumped-up" crowds. Given the demands of daily life, it's harder for the band to hit the road. But with kids grown-up and off to their own lives, the members are game to do more.
"It's harder to head off to Liverpool or London now than it was in the 'noughts, but we're looking at some West Coast shows this year, hopefully heading down to Portland," he said. "The fun is a big part of it playing live, but a lot of the themes in the last two albums are about heavy stuff that comes with the passage of time. The second single Running Through the Rain is for, and about, my mother who was diagnosed with Alzheimer's and the video features the two of us."
Article content
Most chilling is the acoustic ballad Cross My Heart. A gently plucked guitar carries Wayne's plaintive delivery of a relationship with a truly deadly dysfunction. A chance encounter with an old friend at a high school reunion sparked the song.
"At the reunion, I saw an old friend and everything seemed to be going great with her," he said. "Later, I was reading in the newspaper that her husband had woken up one morning and shot her, their daughter and then himself. The line 'she crossed her heart, he hoped to die' is pretty damn dark, but when you feel it, write it."
Key to the group's continuation is maintaining a standard of quality that extends from the songwriting through to the production and presentation. Almost all of the output is created in-house as each member brings skills ranging from video design and camera work to studio production and engineering and so on. The beauty of today's technology is that the only pro studio space required is for the drums, which keeps costs down.
Article content
The biggest challenge over the years has been keeping a bass player in the band.
"That statement gets tons of press and it is true that 19 different people have manned the bass, sometimes only on one song or for a few shows," said Wayne. "Realistically, there have really only been five or six in that seat for any long periods of time. People have called BS on me, but I can provide a list."
Looking over the liner notes for the new album, there doesn't appear to be a separate percussionist listed on the next single. But Crashin' deserves to have a cowbell credit, because the heavy rocker is completely driven by the tick-tock banging on the instrument. It's certain to be an in-concert fave.
sderdeyn@postmedia.com
Vancouver's Railway Club is closing down again

Q&A: Zoo Life showcases the Zolas bassist dwi at Brit Pop best
---
Support our journalism: Our in-depth journalism is possible thanks to the support of our subscribers. For just $3.50 per week, you can get unlimited, ad-lite access to The Vancouver Sun, The Province, National Post and 13 other Canadian news sites. Support us by subscribing today: The Vancouver Sun | The Province.
[ad_2]
Source link