Johnny Cash performed several country music songs that are enduring classics and crossed over to the mainstream. He didn't write all his hits, and "Folsom Prison Blues" set his bank account back $75,000 after a plagiarism lawsuit, but that doesn't change the fact The Man in Black remains a country legend because of his tunes. One of Cash's signature songs, "Ring of Fire," comes with a twisting and sordid story that is song-worthy itself.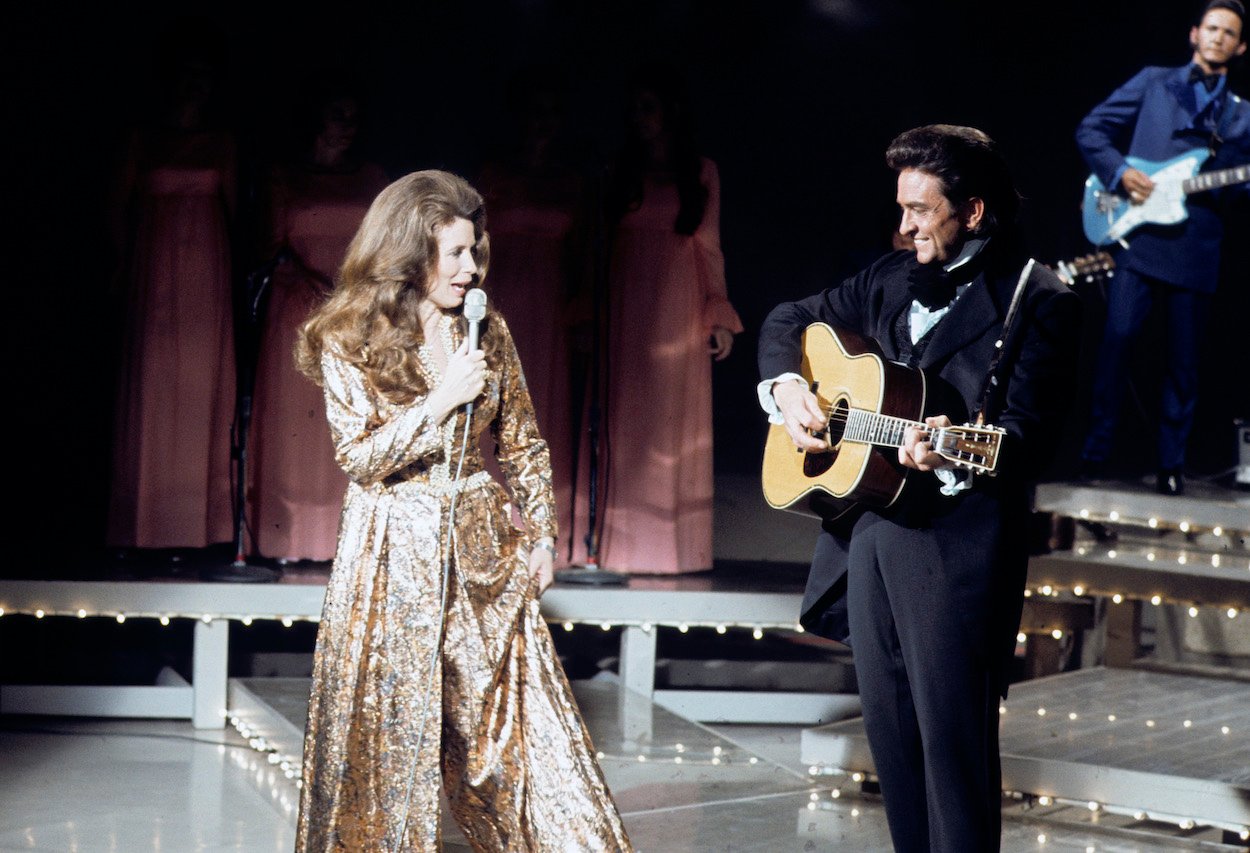 Johnny Cash didn't earn a songwriting credit for 'Ring of Fire'
Aside from Cash's deep-throated baritone, "A Boy Named Sue" and "Ring of Fire" don't have all that much in common. The former is a relatively simple country-folk storytelling narrative. The latter is a genre-bending country-latin tune whose mariachi horns might be the highlight. Cash didn't write "A Boy Named Sue." The same goes for "Ring of Fire."
June Carter and Merle Kilgore, who lived near each other in Nashville and often wrote together, penned the song, per the American Society of Composers, Authors, and Publishers (ASCAP). 
Cash wasn't even the first one to perform the song. As Alan Light writes in Johnny Cash: The Life and Legacy of the Man in Black, Carter and Kilgore handed it to Anita Carter first. Her version (titled "(Love's) Ring of Fire") didn't chart in 1962; Cash recorded his version in March 1963.
But the twisted story of "Ring of Fire" isn't that Cash didn't write it and wasn't the first to record it. The sordid part of the song's story came from the smoldering but hidden passion between Cash and June Carter.
Contradictory songwriting claims add to the twisted story behind 'Ring of Fire'
Carter and Kilgore's names appear in the ASCAP directory as the songwriters for "Ring of Fire." That's never going to change. Carter told a convincing story about the song's creation, as Light notes in his book.
She claimed she saw an underlined passage in one of her uncle's books: "Love is like a burning ring of fire." It hit close to home for Carter. Like Cash, she was a married, but she couldn't deny the attraction she felt for him. "There is no way to be in that kind of hell, no way to extinguish a flame that burns, burns, burns," she wrote privately, per Light.
Carter's story about writing "Ring of Fire" sounds plausible. Then Cash and his first wife, Vivian Liberto, threw a wrench into it.
Cash said he dreamed the song with "Mexican horns," Light writes. The brass instruments set the main hook in Cash's recorded version, and four Carters — Mother Maybelle, June, Anita, and Helen — provided the sweet oohing harmonies in the chorus. The Man in Black recorded the definitive version of the song on March 25, 1963, Light writes. 
Cash said he wrote the song on a fishing trip, and two people back up that version of the story
Yet Cash separately claimed to pen the song with Kilgore during a drug- and drink-filled fishing trip. Cash's friend Curly Lewis, who was also fishing with them that day, backed up this story, and Liberto did the same. "To this day, it confounds me to hear the elaborate details June told of writing that song for Johnny," Liberto wrote in her memoir, per Light. "She didn't write that song any more than I did." 
The story behind "Ring of Fire" seems to be as sordid and twisted as any of Cash's thematically darker tunes. Did Cash drunkenly write the song and give it to Carter, only for her to give it back? Possibly. Did Carter's uncle's book give her a lightning bolt of inspiration to write "Ring of Fire?" That's the official version that shows up in the official ASCAP library.
We know two things for sure: The attraction between Cash and Carter was mutual and lasting, and "Ring of Fire" became one of his biggest hits.
The song became one of The Man in Black's biggest hits
The mutual attraction between Carter and Cash in 1962, when "Ring of Fire" was written, was forbidden yet undeniable. Their burning love for each other smoldered until they finally married each other in 1968. It was Cash's second marriage and Carter's third, but it lasted until she died in 2003. He died a few months later.
No matter the true story behind "Ring of Fire," it became perhaps Cash's biggest hit. It spent 26 weeks on the Billboard country chart. It lasted seven weeks in the top spot, the most for any of his No. 1 hits. 
"Ring of Fire" appeared on the Hot 100, too. It peaked at No. 17, Cash's second-best showing on that chart, and its 13 weeks on the chart were the most of any of his songs.
In the end, the real story behind Johnny Cash's hit "Ring of Fire" isn't all that important. The passion described in the song was real for Cash and June Carter, and they lived that passion as man and wife for 35 years. No matter who wrote it, "Ring of Fire" became one of Cash's biggest hits.
For more on the entertainment world and exclusive interviews, subscribe to Showbiz Cheat Sheet's YouTube channel.
Source link