[ad_1]
September 8 2023, 8:58 am
| |
No Comments
Sound studios and music companies across Australia have enjoyed a year to sing home about with most encountering strong creative briefs and the arrival of new talent from all parts of the globe. The emergence of new AI technology is also welcomed, and budgets have remained relatively steady in the face of uncertain economic times. Campaign Brief talks to the industry's top players for a yearly sound check.
One of the country's most respected music supervision companies, Music Mill, welcomed more work from New Zealand this year now that travel is permitted. Having been in business for 23 years, Music Mill owners Clare and Bruce Tweedie are also citing work spread evenly across Australia along with the occasional job from Asia.
Providing services for Australia, New Zealand and South Asia, Music Mill specialises in a narrow but critical niche – finding and licensing songs for advertising campaigns.
Says Tweedie: "Over recent years, Clare has invested a lot of time in our workflow management processes, partly to improve our professionalism, but also to keep track of where all the enquiries are coming from. Even with access to that data, it changes all the time."
He explains the majority of the music supervision company's work has come from agencies, stating: "Probably because we've spent 23 years developing relationships with them all across Australia, New Zealand and Asia, and we really know how they tick."
Speaking to both advertising and music industry contacts about the current economic conditions, Tweedie adds it seems clear this calendar year has been relatively quiet for most companies: "We've been doing okay because we have such a solid base, but it does seem like some advertisers have been tightening their purse strings. On the other hand, we've been seeing quite a few green shoots in recent weeks."
Rumble Studios partner and executive producer Michael Gie agrees the industry didn't have the strongest first half of the year, no doubt due to financial caution with inflation and talk of a recession. However, over the past couple of months, he says it's been encouraging to hear everyone working on larger projects with healthier budgets.
Says Gie: "We've seen a huge growth in work from Melbourne due to opening our facility there in September last year. Our work has picked up some international awards and it's been great to see more jobs coming from the US and Europe."
Bang Bang Studios principal sound designer Sam Hopgood found budgets remaining reasonably stable this year. He says: "We did notice a definite slowdown in production towards the end of the last financial year, which was certainly heightened by rising interest rates. Thankfully, we were able to work on some large-scale projects that filled many of the gaps in studio hours that came with the downturn."
As the sound house becomes better known for its sonic branding work, MassiveMusic creative director and senior composer Lance Gurisik is starting to see more direct to client projects with brands that don't typically have a permanent agency.
Gurisik says: "I'm reliably informed that although there is a lot of pressure on local campaign music budgets, we have been fortunate that our sonic branding venture has proved more successful than we could possibly have imagined. Of course, while the budgets are larger in sonic branding, the workload associated is also significantly larger. We may spend over a month doing a deep dive into the brand, including competitor analysis and workshops to define the sound of the brand before we even start writing music!"
Also due to its increase in sonic branding work, Smith & Western Sound composer Nick West has received a spike in international client requests. Working with brands such as French company Bugatti, via collaborators at Interbrand Cologne, suggests that these days the studio's fans are spread out globally.
According to Smith & Western Sound executive producer Dan Higson, the sound house has enjoyed a record year: "Our findings are that clever clients are more switched on than ever before when it comes to appreciating the value of audio and its power on brand recognition and emotional recall. Stings and jingles have been around for years, but today sonic branding is even more considered and well-crafted with the ability to be embedded across many touchpoints. We've worked on jobs needing over 200 assets and it's no longer just about a logo. Audio is definitely in its renaissance era."
Also enjoying an uptick of international work, Sonar Music head of sound Timothy Bridge says whilst the majority of the sound house's advertising work continues to be sourced via local clients, Sonar is across more interstate and international briefs. He says the normalisation of remote working post-pandemic means the barriers of doing business globally have well and truly been removed.
Bridge adds: "In long form, we continue to work across international films and television series and envisage this work to increase, particularly as our industry presents good value opportunities."
Uncanny Valley's recent signing of a global deal with Universal Music Publishing has seen a burst of activity from overseas in both television series and TVC projects.
Says Uncanny Valley creative producer Ariane Sallis: "It's been an exciting evolution with more relationships being direct with creatives in the production process. A recent trip collaborating with artists at studios in Europe, such as RAK, Abbey Road, Hummingbird and Miraval, has also opened doors to some seriously exciting opportunities."
The lion's share of Final Sound's work has come via local clients however the studio is still working on overseas based client briefs.
In terms of agency verses direct brand work, Final Sound founder and sound engineer Paul Shanahan says: "It's a mixed bag, with a skew to agencies. The noticeable shift is the number of smaller agencies popping up and kicking goals. We don't have a preference as long as the work keeps coming."
According to Final Sound founder and sound engineer Craig Conway, with financial uncertainty comes a reduction in the available amount of big budget work.
Conway says: "Whilst we've not seen a decline in budgets on the larger projects, there has been a decline in the number of larger jobs overall. There are some meaty budgets to be had, but the pool of available big budget work has shrunk."
Although most of Heckler Sound's work is local, the past 12 months have seen the sound house working on international briefs from Hungry Man UK, On Running in Switzerland, Iconoclast in Germany, and Untold Studios in the US.
Sharing the music composition and sonic branding work between its studios across Melbourne, Sydney, Chicago, Los Angeles, and New York, Squeak E. Clean Studios was also across a variety of global briefs throughout the year.
Commenting on budgets this year, Squeak E. Clean Studios executive creative producer Karla Henwood says: "There is still work out there and still bigger budget jobs being made, but there are definitely some areas where agencies and marketing departments are being fiscally careful."
This year Mighty Sound's advertising work landed via a mixture of agencies, production companies and a handful of direct-to-client relationships – most of it local, with some hailing from Asia, the US and the UK. Mighty Sound founder and sound designer Matt Perrott says: "We focus purely on sound design and audio post, so while advertising is a key pillar to our work, we also work across film and television, which pushes our craft skill sets to exciting new areas."
The Rise of the Machines
Although no substitute for human creativity, the rise in new technology, including Generative AI, is seen by many in the industry as a progressive step forward.
Heckler Sound executive producer Bonnie Law says AI has only impacted her business in positive ways. Says Law: "We have worked on projects where AI has been part of the creative at the ground floor. Howatson + Company's Maurice Blackburn – Exhibit Ai campaign is a perfect example of utilising AI technologies to develop imagery based on witness accounts of the treatment of refugees in Australia's detention centres, where no filming or recording equipment is allowed."
As to the possibility of AI impacting business in a negative way, Law says it's fair to say this seems like a long way off.  "A recent study at University College London found that participants were able to detect deep fake voices or speech only 73% of the time, which means AI is onto something, but the numbers are still skewed in favour of humans. The subtleties of craft involved in composing original music and sound design at the pace and level at which we do speaks to a complexity that AI has not yet come close to generating."
Mosaic Music + Sound partner and head of creative Adam Moses believes AI is having a positive impact on music.
Says Moses: "As far as what it can do, we are only at the start of its powerful impact. In terms of mixing and mastering, AI and digital integration has been in place for years and has helped composers and producers get clean, loud, and well-produced tracks. As far as composition is concerned, it does not have the power to read emotion on the screen, or the understanding of structure in storytelling, so I don't believe we have anything to worry about just yet."
Where Moses sees it having a positive impact is on workflow, application and design of instrumentation: "Fixing audio, helping to design new instruments through language modelling, and creating new sounds will be where we will be using it more."
Gurisik at MassiveMusic is excited about the introduction of AI to the industry, believing it to be another powerful tool to enhance the quality of work: "As everyone would know, when it comes to ChatGPT, artificial intelligence can only create a considered response if it is prompted with the right inputs and language. And music creation AI will be no different; in fact it will probably be more challenging because music is so difficult to communicate with words.
"Also, when something goes wrong and there's no solution — no matter how many revisions to the prompt you make, you'll need an old-fashioned human composer to realise the idea completely. Once AI can write a piece of music, produce the sounds to appropriate taste, mix it, master it, score to pictures, move music around to constantly edit changes, consider dialogue and sound design, and move me emotionally… then well, my outlook might not be as rosy."
The rise of new technologies, including AI, has been a positive boost for Uncanny Valley, which has been at the forefront of the conversation for years now with its 'artist-first' generative music system MEMU (memu.live).
Sallis explains: "We see AI as a creative tool, not a threat, and prefer the phrase augmented creativity. It helps us streamline processes and explore new possibilities while preserving the human touch of producing music from real experiences and emotions. AI is a band member who helps us to deliver extraordinary music and sound experiences to our audience."
Final Sound is using AI every day and views it as another tool to assist with ADR, sfx and sound design, dialogue enhancement, noise reduction and restoration, mixing, right through to music composition and scoring.
Says Shanahan: "We're looking forward to seeing how AI advances and reaping the benefits it offers, though we're also acutely aware it brings challenges that we need to consider. Ensuring that a balance between automation and the human factor is essential to preserve the creative and artistic aspects of our business. Furthermore, the ethical implications of using AI generated content and potential job displacement in the industry are concerns to consider as we look to its place in our future. We don't want voice artistry replaced by technology."
It's a concern also held by Gie at Rumble Studios: "I think the biggest threat of AI is for voice-overs. Not so much for the more creative scripts that need subtleties of inflection and emotion, but certainly for guides, corporate videos or even retail. AI voices are starting to have an impact."
Although AI hasn't really begun to affect Bang Bang Studio's work, the team is beginning to see an improvement in the technology surrounding computer generated voices. Hopgood says: "We have done a couple of projects recently where we recorded hundreds of random phrases with varying levels of emotion and expression that were then used to create an automated voice generator, like you would have with Siri or Alexa. So, I can see some of that potentially being used in the future. Voice actors could sample their voice and charge a fee to use their voice for a particular product in perpetuity."
Sonar Music has found plenty of clients asking the team to integrate AI into projects or asking how they can utilise AI to streamline projects. Says Bridge: "We envisage this request becoming more frequent as AI technology rapidly innovates and develops further, and we discover how it can seamlessly integrate into our processes."
On the music supervision side, Tweedie at Music Mill explains it hasn't made the slightest difference. He says: "I don't want to be over-confident, but the work we do is so complex that I think it will be a while yet before AI makes any inroads. Every song requirement is different, and personal relationships with suppliers and clients play a significant role – music supervision is still very much a human endeavour."
New Year, New Faces
Continuously growing its global network of freelance composers and sound designers, Smith & Western Sound appointed Abby Dorrian as head of new business to focus on extending its network. Says West: "Abby has her finger on the pulse when it comes to hunting out the best creative talent and briefs on the market. We've really enjoyed working with our existing and new collaborators."
Bang Bang Studios added a new engineer to the team at the end of last year, welcoming Justin Bodanac. Says Hopwood: "Justin worked with Phil Kenihan at Front of House for many years and is a great addition to the crew. He's an outstanding technician, is great with clients and has embraced the Bang Bang energy like a duck to water!"
Over at Rumble Studios, the Melbourne team grew to include up-and-coming sound designer Sean Wilkinson along with composer Pere Corrigan. Says Gie: "Good talent is always hard to find but we make a point of searching to connect with talent all year round, regardless of if we have an opening at the time."
Over the past 18 months, Sonar Music has bolstered the team across all areas of the business welcoming new production folk, sound designers, engineers as well as composers. Says Bridge: "With such a fast-moving industry that requires creatives to respond to briefs which may radically change in direction mid-project, hiring creatives who have a versatility and diversity of skills has been key to delivering work that remains original and authentic."
Working hard to develop and nurture its relationship with talent, Heckler Sound's most recent additions hail from Mauritius, Berlin and San Francisco, and the studio is always looking to build out its local and international roster.
The Squeak E. Clean Studios Melbourne team has grown, introducing Laura Hesse as senior producer, Richie Buxton as music producer and bringing composer Lydia Davies back on deck after maternity leave. Says Henwood: "We have additionally brought on neuroscientist Dr. Bradley Vines to head up our sonic branding team as this has been a growth area for us over the past couple of years."
It was also Squeak E. Clean Studios' first year operating its full experiential division, launched in December 2022 with Tom Webster at the helm. "Tom heads the division leveraging his work alongside artists, choreographers, and award-winning directors, by collaborating with brand teams to develop engaging activations that build narratives around cultural moments."
When SongZu became Massive-Music last year, they inherited 100 incredibly talented new team members around the world, including composers, producers, sonic branding strategists and researchers. Says Gurisik: "It's been a great experience joining this group and has greatly increased our firepower. Sonic branding continues to grow with an increased focus on research to validate and measure the impact of distinct brand assets. So, our sonic strategists are busy helping brands to apply these sonic brand assets beyond advertising to audio touchpoints throughout the customer journey such as app sounds, events, in-flight and in-store experiences."
Over at Uncanny Valley, Sallis came on board this year as new creative producer and is chuffed to be a part of the team. "The energy and drive at Uncanny is contagious, and I feel right at home already."
In terms of securing talent, she says the industry is always buzzing, and that the studio is working with new composers. "We definitely see an increasing need for musicians who have a deep knowledge of emerging technology, technologists that have the ability to translate their, often very different, skills to our musical objectives. It really is quite a niche – we're lucky to have scouted some excellent talent."
Now in its third year, Annandale based Mighty Sound took on an additional fulltime sound designer and a new senior post producer. Says Perrott: "Paul Reeves brings some serious skills in modular sound design and manipulation, whilst Meg Drummond is highly experienced in production across the advertising landscape. Given the specialist nature of sound design, especially for advertising work, finding the right talent any year can be tricky, so we are very happy to have such a strong, experienced team."
On the music licensing front, Music Mill's Tweedie would like to emphasis how delighted he is with his wonderful existing team of licensing people. "Cassie Cannon and McKenzie Roberts have really hit their straps in the last year or two, which makes our lives a lot easier, and more fun."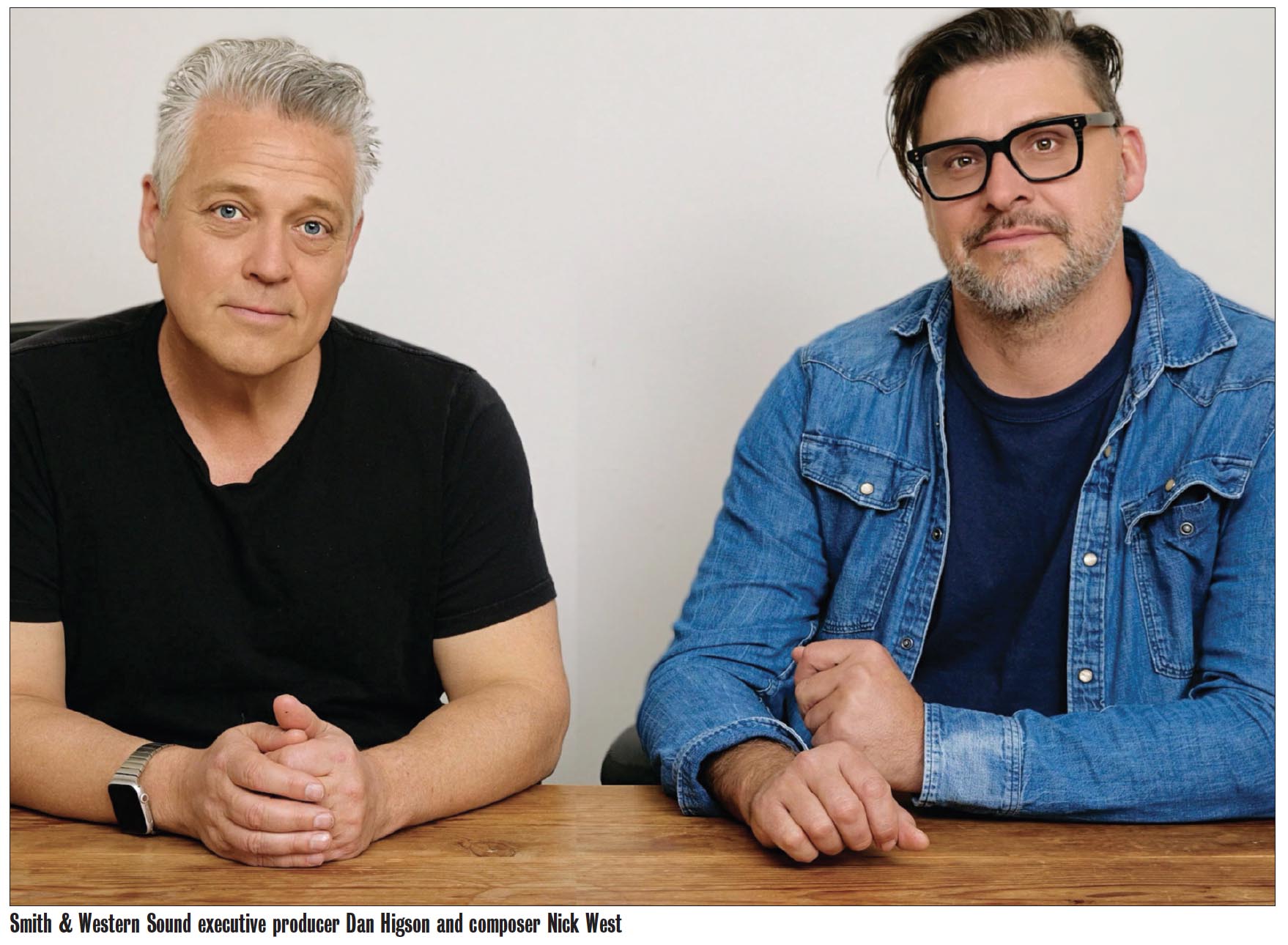 The Work, The Work, The Work
The year's top projects for Music Mill included sourcing a gem of a song for the Supercars Champion-ship for creative agency Wildcard in Melbourne, allowing the music supervision company to demonstrate its expertise in finding great tracks to fit a brief and budget. Further highlights included negotiating the rights to use 'As The Days Go By' for BCM in Brisbane and client Blue Care, along with licensing an iconic Australian song for the Optus Cyber Security response campaign for Special Group in Auckland.
For Rumble Studios, working on the Carlton 'Drylandia' spot with Clemenger BBDO and Revolver was a standout. The campaign saw the studio create the theme music and soundscape for a fictitious land with an elongated rocket powered horse. NRMA 'Duel' with Bear Meets Eagle On Fire and Revolver was another of the studio's most creative pieces of work, conceptualising the interplay between fire and water to a predominantly woodwind score.
Rumble Studios was also fortunate to work with James Dive at Scoundrel on his 'Losting' Vivid installation. The work reflected the art of getting lost in nature and saw composer Jeremy Richmond created an immersive soundscape that aligned with Dive's jungle prism.
Epic projects for Uncanny Valley included The Summit series for Endemol Shine, The Voice promo for Seven Network (via creative director Graham Donald), Standard Chartered's LFC 'Play On' campaign with creative agency ElectricLime (directed by Armand De Saint Salvy), the Sydney Opera House 50th Anniversary installation, and series Ultimate Escape with Helium Pictures.
Uncanny Valley also co-hosted networking event Creative Circle with CB and Limehouse, celebrating creativity and connecting industry professionals, and ventured into a new exclusive worldwide partnership with Universal Music Publishing. Says Sallis: "This affiliation is already building our presence by enhancing existing alliances and driving new opportunities across audio-visual platforms with UMP's global networks."
Mighty Sound was lucky to work with great brands, agencies and production companies throughout the year, such as Google, Musashi, McDonalds, Binge, eBay, Jetstar and Afterpay with the likes of The Hallway, Joy, Streammotion, AW and Jack Nimble.
The studio encountered some interesting projects including an immersive installation piece for the Australian Museum, a couple of feature films, as well as its continued support of the Australian Screen Sound Guild, helping connect other engineers and designers with their peers across the country.
For Bang Bang Studios, exciting projects included a campaign for M&C Saatchi and the agency's client Minderoo. The creative focussed on the concept of a plastic rain forecast, taking into account how a large amount of microplastics end up in the atmosphere then fall from the sky in rainfall. M&C Saatchi created 'The Plastic Forecast' that combined research on atmospheric plastic with daily weather forecasts to estimate the daily 'plastic fall'.
Bang Bang Studios was given the challenge to create sound beds for the various forecasts and the amount of plastic rain that would fall on any given day. The team combined extensive foley recordings of plastic bags, beads and other items with natural sounds of wind, rain and thunder to complete the task.
Another great project was Suncorp's 'Team Girls' campaign via Leo Burnett. The campaign focussed on the positive outcomes that girls achieve through sport. Sticking with sport, the studio also worked with Gemba for Toyota and its 20th year of partnership with the AFL. Titled 'Feeling It', the campaign zeros in on the emotions of being a footy player and fan. Bang Bang Studio's Tristan Dewey composed the music and created the sound design.
Standouts for MassiveMusic included Samsung's 'Galaxy Buds' campaign. Gurisik says: "We loved working on this global campaign with the We Are Social crew and director Ethan McLean. Just the nature of the spot allowed us to lean into the music and write something provocative and dynamic. I think we ended up with something quite unique that captured the sentiment of the campaign."
Other great work included Destination NSW – Regional 'The Murray' spot and Hershey's Chocolate World theme park ride. "Our team was fortunate enough to create the music and sound design for a theme park ride at Hershey's Chocolate World in the US. Adrian Sergovich, Kat Acquilia and Simon Kane did the heavy lifting on this one, but it was a monster job and required a big team effort to pull it off. Experiential music and sound jobs are really fun to work on as they usually end up being highly creative jobs. The team also recorded a 65-piece orchestra for this project!"
This year the new Foxtel brand campaign was one of Smith & Western Sound's standout projects. The studio created a beautiful piece of music to match a fantastical world. Says Higson: "It received a huge amount of airtime and is definitely one of our proudest moments this year." The studio is also pleased with Coopers 'Roll On' via Taboo & Hooves, which won a Silver in the music category at AdFest. "It was a massive compliment the client had our original brand track pressed on to a vinyl and released on Spotify."
Smith & Western Sound also produced some bold sonic logos for brands Binge via Thinkerbell and Bugatti via Interbrand, Germany. One final piece of work was via agency Howatson + Company for Belong. "We created the most unusual piece of music ever – Tibetan throat singing! We composed an iconic track to accompany a thumb as he scrolls his way up Mount Everest. I can't tell you how many comments we've had from creatives around the world on this weird and wonderful composition."
Sonar Music had the opportunity to work on some fantastic campaigns this year – a few standouts included Toohey's 'How Do You Feel?', Budget Direct 'Blown Away' and Telstra 'Turn Off Your Phone'.
Working recently with Collider on its epic global Nike 'Here We Go' TV campaign was a fantastic experience, utilising the Matildas' famous team chant within the studio's composition. Sonar also worked on the hugely successful Samsung 'Flipvertising' campaign, which picked up numerous awards including a Grand Prix at Cannes.
Says Bridge: "We were thrilled to work with Clemenger BBDO on arranging and recording a choir for our composition on Carlton Draught's brilliant 'Long Live The Keg' campaign, and Telstra's exciting 'Turn Off Your Phone' cinema-only campaign with the brilliant team at The Monkeys."
In long form, Sonar Music had the opportunity to compose the score for Netflix's hit television series Wellmania starring Celeste Barber, Disney +'s upcoming series The Artful Dodger, as well as scoring Russell Crowe's feature film Poker Face and Lee Tamahori's highly anticipated feature film The Convert.
This year Final Sound worked on Catch 'Because' via Sunday Gravy and Revolver, delivering a strong campaign with beautifully shot executions. Says Conway: "All three spots were rippers but our favourite was 'Crocs'. Strong visuals follow the featured talent playing the 'Warmer, Colder' game, accompanied by a group of croc wearing chorists! We like the way the MADC judges put it: 'A brilliant idea driven by sound – the audio is the idea'."
The studio's other favourite work was for client Sportsbet: "Not campaign specific but it's always fun to work on their projects. Sportsbet executions deliver in cinematic style and the team is a delight to work with – strong creative, good peeps!"
For Mosaic Music + Sound, highlights included Modibodi 'I'm Dying Inside' for Howatson + Company and FINCH. Moses says: "We crafted all original music and sound design for this five part two-minute comedy series made exclusively for Tik-Tok and targeted directly at Gen-Z. We also wrote a different title track for each episode and even though each title sequence was only five seconds long, our philosophy was to write over-length lyric driven tracks in step with a Gen-Z audience. With a longer track, there is an authentic and legitimate feel to the songs written and we provided our client with a premium track to use."
Klarna 'Search and Compare' was another highlight. "We crafted all original music and sound design for the launch campaign of the new feature on the Klarna app. Klarna has a unique brand sound and we had to make sure we were in lockstep with this. We came up with an interesting, quirky and Scandinavian style composition with unique instrumentation and composition, and our approach to sound design was to make it fresh, modern and bubbly. The client was so happy with our work, they thought it was too good to live online only and decided to run the commercial on television in Europe."
And, lastly, Milkrun/Woolies Metro60 campaign 'We're Back Baby'. Mosaic Music + Sound was asked to sound design an 8-Bit inspired launch campaign to announce the second-coming of the Milkrun brand and its merger with Woolies Metro60. "The launch campaign was based around an 80's arcade game, and we delved deep into the authentic and legit sounds of 8-Bit gaming to truly make this campaign come alive."
For Squeak E. Clean Studios, Toyota GR 'Metamorphosis' was a collision of sound and music from the Sydney and Melbourne team. The studio needed to keep things both very real-sounding while also hyperbolizing the power and personality of the race-bred car. The studio broke barriers with the AUS Navy ad 'Audio Ad You Can See', which required the team to find a way to do something that had never been done in a commercial environment before. Encoding pictures into a soundtrack with no apparent distortion, and with the clarity to read a website and logo, it took hours of research, development and trial and error.
Squeak E. Clean Studios also created a unique and powerful vocal chant for FIFA WWC in a spot called 'Unity Beat'. Says Henwood: "We utilised our all-female team of in-house composers and producers from our Sydney, Chicago, Melbourne and New York studios to compose and produce the Unity Beat. To hear it sung so passionately live in the stadiums at every game was really awesome to experience." Lastly, the studio's Macpac 'Precarious' ad stood out for the amount of time spent crafting a sound that listeners didn't overtly notice, but that emphasised the laconic humour and empty space the commercials were set in.
For Heckler Sound, The Right To Race was definitely a highlight. The 30-minute film documents the story of Dominic Lobalu, a South Sudanese refugee and elite long-distance runner. The director Richard Bullock worked tirelessly to capture the exciting – and at times heart-wrenching – journey Lobalu made since leaving South Sudan as a child right up until present day, as he begins to capture the world's attention in the lead-up to the next Olympics. Sponsored by On Running and launched at Cannes Lions 2023 on World Refugee Day, the documentary is the latest in a series of films Heckler Sound has collaborated on with director Richard Bullock – all of which cast their lens on South Sudanese and Kenyan members of the Olympic refugee team, and their incredible stories from a war-ravaged childhood to their current dreams of chasing Olympic glory.
Another standout was Maurice Blackburn – Exhibit Ai, a Cannes Bronze winning campaign. Utilising Ai to create strong imagery of actual accounts that couldn't be provided as a result of media exclusion from Australian detention centres, the work helped bring awareness to this subject, which was important for all involved at Heckler Sound. Law says: "Initially, we composed something quite emotive and dark. We refined the creative down to a paired-back and emotionally suspended score, using a single instrument for the final part of the score in the manifesto. The instrument was futuristic in sound, juxtaposed with emotional chordal modulation to compliment the intensity of the AI imagery while not hand holding what the viewer/ listener should feel. All the voices were cast and recorded and were read from hundreds of actual transcripts of witness accounts from detainees."
Allianz Swim was an opportunity for Heckler Sound to work on a brand campaign with Scoundrel director Grant Sputore, via Howatson + Company. Three hero 30-second films, beautifully shot, worked as part of a campaign to bring awareness to the fact that one in four Australian adults don't know how to swim, showcasing those who are taking action later in life, via Allianz Swim Club. Each film initially had individual pieces of music referencing some heavyweights like David Bowie, ELO and Queen. The studio pulled together a series of original composed pieces that pay homage to that era while retaining individual authenticity. These were written and composed to sound like a released track and then cut to picture much like a licensed piece of music, paying attention to sync whilst still sounding like a published track. Putting forward original compositions at this level made this campaign exciting from a craft perspective.
Another big project for Heckler Sound was Black Wing, a collaboration with Revolver director Tim Main. A Screen NSW funded short film made entirely in Unreal Engine, it tells the story of a cormorant flying through a desolate hellscape, and in its struggle, a depiction of the global environmental crisis the planet is facing. Black Wing showcases Heckler Sound's interweaving craft, whereby composition and sound design can play to their strengths, finding harmonious synchronicity in their approach to the soundscape and score.
Read the full article and more in the latest print edition of Campaign Brief, out this week…
[ad_2]
Source link