The Beatles didn't need Ringo Starr to be a songwriter. Paul McCartney and John Lennon took up those duties early in the band's career. George Harrison grew his writing skills. Not being relied upon for songs lessened the pressure on the drummer, which Ringo said was a positive of being the fourth Beatle. Still, he attempted to write songs. When you go inside Ringo's clunky songwriting process, it's a miracle he ever got any tracks on Beatles albums.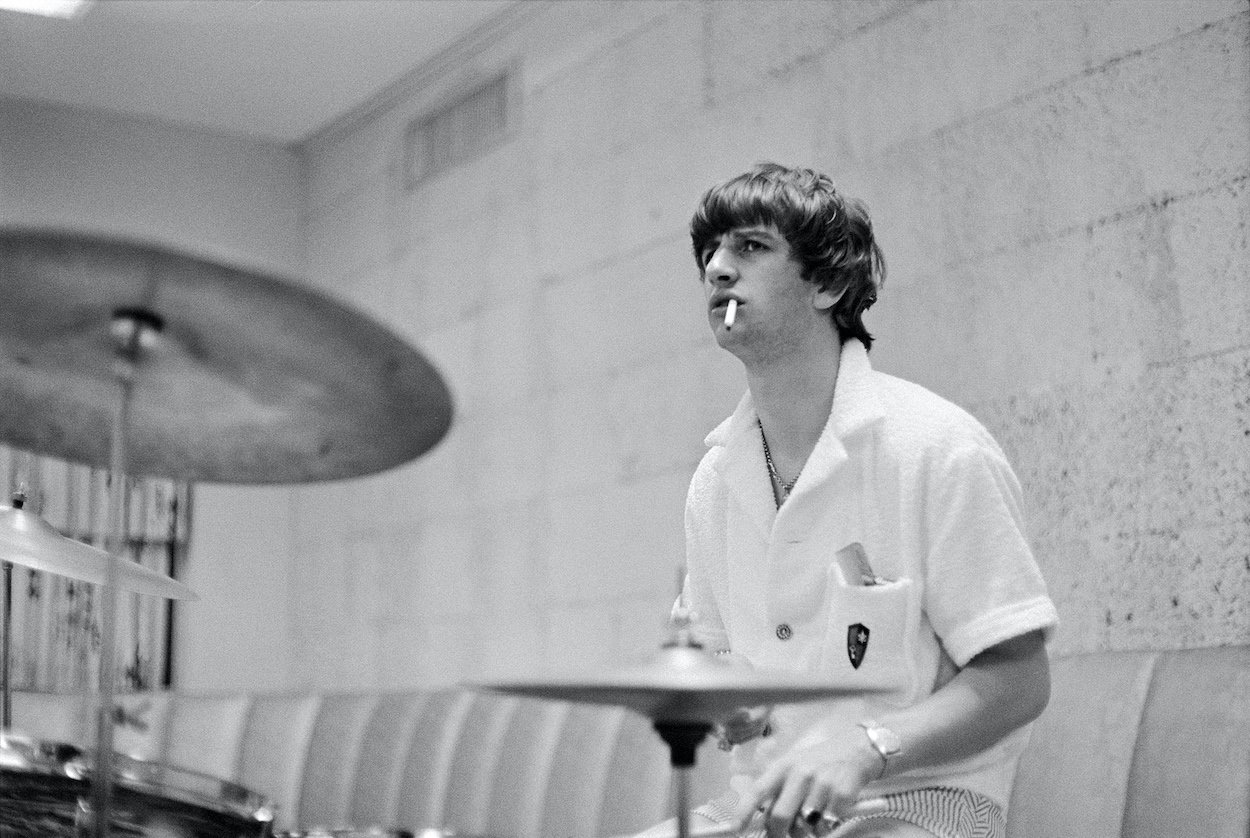 Ringo Starr didn't need to be a songwriter for The Beatles
The Beatles needed Ringo to be their drummer to become the Fab Four. His steady timekeeping skills were critical to the band. Ringo's songwriting? Not so much.
When they weren't covering songs, John and Paul teamed up to handle a lot of the early songwriting duties for the band. The duo retained that dynamic for much of The Beatles' career. Paul and John remained strong composers even when their personalities conflicted and they wrote separately. John bragged that The Beatles used backmasking first after he accidentally had a miscue on his home recording equipment. Paul's genius as a songwriter was creating songs almost on the spot.
George grew as a songwriter during his Fab Four career. He eventually wrote several of the band's signature songs, such as "Taxman," "While My Guitar Gently Weeps," and "Something." Meanwhile, Ringo's songwriting process was so convoluted that it's a miracle he had any songs on The Beatles' records.
Ringo's songwriting method was comically complex, and it's a miracle he wrote any Fab Four tunes
He had prodigious and underappreciated drumming talent, but Ringo's songwriting process left a lot to be desired. He didn't possess the same level of skill on other instruments as he did on the drums, which made composing a difficult task. 
As Ringo Starr: Straight Man or Joker? author Alan Clayson writes, the drummer would sometimes have a burst of inspiration but then become distracted by lunch, his kids, the TV, or a phone call. Ringo's complex writing process made it next to impossible to finish a song:
"I usually get a first verse, and then I find it impossible to get anywhere else with the song. I can't say, 'Now I'm going to write.' I just have to be around a guitar or piano, and it just comes. Usually, what I do if I'm in the mood is put the tape on if I've got a tune, and then I play the same tune like a hundred times with different words. Then I take the tape off and get it all typed out, and then I pick the lines out that I'll put together." 

Ringo Starr describes his songwriting process
The Beatles drummer needed a spark of inspiration, access to an instrument and recording equipment, no interruptions, and time to play his song over and over again. Ringo's songwriting process during his Beatles years was so convoluted that it's a miracle he got any songs on the albums. But he did. 
"Don't Pass Me By" landed on The White Album in 1968, six years after Ringo started working on it. He had a much easier time with "Octopus's Garden." He cranked out the song while on a break from the band. The captain of the yacht he was on gave him some octopod facts, and when an octopus wrapped itself around Ringo's nanny, he had all the inspiration he needed for the song. It seems the less thought he put into it, the more smoothly Ringo's songwriting process went.
The drummer penned several of his hit solo songs
Ringo's songwriting process seemingly hampered his efforts with The Beatles. He still relied on some help from his friends, but things went a bit smoother during his solo career. Ringo penned several of his solo songs with minimal assistance.
Per ASCAP (the American Society of Composers, Authors, and Publishers), he wrote "It Don't Come Easy," one of several hits from his self-titled third solo record on his own. Ringo penned the muscular "Back Off Boogaloo" by himself, though he said he needed George's help to sound like a genius. ASCAP shows Ringo with 74 songwriting credits in its catalog.
"Back Off Boogaloo" was his top single in England, reaching No. 2, per the Official Charts Company, while "It Don't Come Easy" hit No. 4. Those two songs and the Ringo-written "Oh My My" were three of his seven Billboard top-10 singles. 
The autobiographical "Liverpool 8" from the 2008 album of the same name was another solo songwriting effort. It briefly charted in England.
Ringo Starr's songwriting process was so complex that it took him six years to finish his first Beatles song. It seems he refined things a bit after the Fab Four because he wrote several solo songs that performed well on the charts.
For more on the entertainment world and exclusive interviews, subscribe to Showbiz Cheat Sheet's YouTube channel.
Source link