"It's just beautiful to help these young, aspiring musicians find their path on their musical journey," said Bell.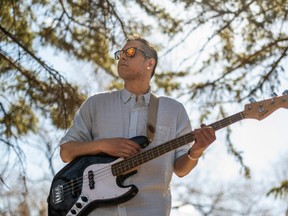 Article content
Nigel Bell has always been a metalhead.
Article content
Growing up in northern Saskatchewan, listening to Megadeth and Metallica, he would air-guitar the solos and dream of being on stage with the greats.
Article content
"Performing is my happy place where I get to be myself," says Bell. "Seeing all the people in the crowd and their reactions to the performance, I think that's the best feeling in the world. I was meant to entertain, and this is what I was built to do."
When his childhood best friend taught him to play guitar in eighth grade, it opened Bell up to a world of musical possibility.
"I just took off — learning song after song, and getting super obsessed with music," says Bell. "It was an outlet. Music helped me through a lot of growing up in the north, and it was wonderful. It's a forever love."
Article content
Bell quickly moved on to writing his own songs, jamming with his friends and pushing himself to master every genre he could.
"My friends and I and some other guitar players who were the same age would just sit around and try to come up with all these cool riffs, and we would have little competitions to see who could come up with the coolest one," he says.
But when he wanted to take his music to the next level, Bell had trouble finding a mentor.
So after decades in the business and international recognition, he wants to be the person he needed when he was growing up.
'A super wild couple of years'
When the COVID-19 pandemic hit, Bell had just returned to Saskatchewan from a cross-Canada tour with his punk band. With live music performances cancelled and the entertainment industry grinding to a standstill, he suddenly found himself with a lot of free time.
Article content
"I just started learning," says Bell. "I remember thinking, 'I know I want to play every genre, but I don't know how to play hip hop. I don't know how it works.' And since I had all this time, I thought I might as well learn how to do it.
"That was a really fun experience. There was a lot of trial and error, but it was so much fun. I'd wake up every morning, and the first thing I'd do is open up my studio and get to work, just learning and learning and learning."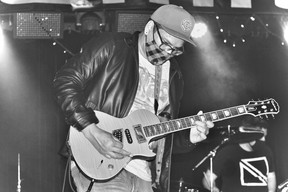 Performing as Nige B, he released one EP, then another — and the accolades started rolling in.
In 2021, after releasing his debut EP, Bell was nominated for SaskMusic's electronic artist-of-the-year award. In 2022, his second EP led to him winning instrumental artist of the year.
Article content
"It has been a super wild couple of years," Bell says. "I'm still getting used to it. I've been playing music for 20 years, and I never really got recognition for it. So getting this award, it caught me off guard."
When he was called up on stage at the SaskMusic awards in December, he hadn't even prepared a speech.
"It was just a fun little project of mine, and I didn't think anything was going to come of that," says Bell. "It's been really great, though. It's been a really humbling journey, and I'm very grateful for everything so far."
Bell's friends and family have been cheering him on every step of the way — "they're always hyping me up," he says.
One of Bell's most enthusiastic cheerleaders is fellow Saskatchewan musician Brad Bellegarde, who performs as InfoRed. He says this is Bell's moment to shine; his commitment to live instrumentation, and his attitude toward music, set him apart from the pack.
Article content
"For Nigel to get all these accolades right now, it's only fitting," says Bellegarde. "I'm super happy for him. From the first time I met him, I got this feeling of calm and respectfulness. There's no ego involved; he just lets the music do the talking, and there is no negativity in him."
When he was starting out, Bell dreamed about his music taking him all over the world. Now, as he works on his latest album — U R What U R, scheduled for release later this spring — Bell is using his music to bring the world to northern Saskatchewan, collaborating with artists from Nigeria, South Africa and the United States.
"It's the kind of record where I almost want to release every song as a single because these artists I have featured are just doing such amazing work," says Bell. "I'm super proud of this record, and I'm so anxious and excited for everyone to hear it. I wish I could show everyone right now."
Article content
'To teach and inspire'
These days, despite all his recent successes, Bell isn't just focused on his own musical career.
He is also teaching music to students in Stanley Mission through the Community Arts Mentorship Program (CAMP), which invites working musicians to schools in remote Saskatchewan communities.
Producer, guitarist and songwriter Erik Mehlsen has been involved with CAMP for years and, when he met Bell at a jam session in 2019, the two of them formed a fast friendship.
"We just hit it off right away, and started making music together," says Mehlsen. "It was just clear that he had a lot of natural talent, and he was somebody who spent a lot of time thinking and playing and obsessing about music."
Mehlsen was able to point Bell toward funding opportunities and potential collaborations. He says it only ever took "the tiniest little spark" for Bell to get started on mastering a new part of the music industry.
Article content
"I'll give him a lead on something and then, two or three months later, he will have exceeded my depth of knowledge or connections in that field," says Bell.
So when Mehlsen suggested Bell come and teach in Stanley Mission, he knew his friend would treat this like every other challenge — he'd see an opportunity to learn, grow and share his love of music.
"He's so passionate about music, and he's a very kind and easy spirit to be around," says Mehlsen. "And he's got a willingness to learn, and he's a good role model. He has all those natural things that you'd want to see in the classroom."
Now in his second year teaching music in the north, spending mornings at the elementary school and afternoons at the high school, Bell says it has been a life-changing experience.
Article content
"I'm hoping to teach as much as I can for as long as I can while I'm here," he says. "It's just beautiful to help these young, aspiring musicians find their path on their musical journey. There are a lot of talented people here in the north, and I'm super honoured and humbled to witness it and be a part of it. It's amazing, just to teach and inspire."
Becoming a teacher reminded Bell of the joy of some of his earliest musical experiences — learning guitar from his friend, and sharing his new skill with other friends in turn.
But now, when his students learn their first few chords, master a song or two, and need some advice on how to take their skills to the next level, they don't have to look too far afield to find a mentor. Bell is right there in front of the classroom, ready with advice, guidance and encouragement.
Article content
"I tell them, 'You've always got to believe in your art,'" he adds. "And if something sounds weird with what you're doing or creating, that's not a bad thing. In music, weird is good. But you've got to trust your art. Be patient with your art. And believe in your art.
"That's the one thing I had to do growing up — I had to never give up, ever."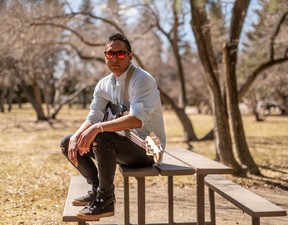 Sask. drummer Graham Templeman plans to 'play when I'm 85, 90 years old'

Bluegrass star Jake Vaadeland marches to the beat of his own banjo
The news seems to be flying at us faster all the time. From COVID-19 updates to politics and crime and everything in between, it can be hard to keep up. With that in mind, the Saskatoon StarPhoenix has created an Afternoon Headlines newsletter that can be delivered daily to your inbox to help make sure you are up to date with the most vital news of the day. Click here to subscribe.
Source link