[ad_1]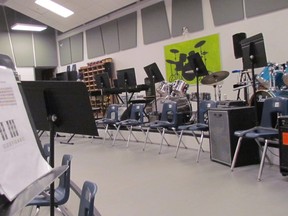 Article content
As students roll back into the school music room after a summer away, the practice of music education is at a critical juncture. After years of pandemic-related hurdles — and the ensuing crisis that's meant one in four youth who are hospitalized are seeking care for mental-health concerns — students can once again reap the benefits of music education in their schools.
Article content
At this moment, many music educators are noticing the immediate effect music can have and, simultaneously, the need for it to evolve. Teachers are everyday heroes, and they're working to sustain music education in schools and enact that change. They're trying innovative approaches, which can include technology, culturally relevant instrumentation and music such as hip-hop or DJ programs, music production, Indigenous drumming or steelpan ensembles.
Article content
However, there are barriers to this innovation, namely the critical and sustained underfunding of music education countrywide. Private music classes are prohibitively expensive for many Canadian families, so it's often the case that a child's only opportunity to make music is in school. As the cost of living crisis extends, the number of kids facing this reality increases. Each year, hundreds of schools reach out to us at Canada's music education charity MusiCounts for financial support for music education, and a third of them report having an annual budget of $500 or less. For many Canadian schools, the annual budget is $0. These figures are paltry, and scarcely cover the cost of strings, reeds or software licenses, to say nothing of replacing an instrument beyond repair, or building a new program to meet students' needs.
Article content
Another limiting factor is the provincial and territorial curricular guidelines, entrenched in the Western-colonial tradition to which educators are beholden. Post-secondary institutions replicate this narrow lens when educating future teachers. The Canadian music scene is a rich tapestry of genres, sounds and styles; to deprive our youth of the chance to make, listen to and engage with this music is a disservice. With each school year that passes, I worry the gap between what's possible and what is accessible to youth widens. Instruments age and take a beating, technology evolves and classroom music just doesn't have the resources to keep up.
As adults, we know music is a through-line in our lives. We fondly remember the first song at our wedding or singing at the top of our lungs in the car. We turn up the volume on that killer playlist to push ourselves at the gym, or sit down at the piano to soothe the day's stress away.
For kids, the impact music makes can be transformative. In my role as president of MusiCounts, I constantly hear from parents and teachers about how much kids look forward to music class, and how the music room is a space for creativity, self-expression, confidence and community. Music allows kids to explore their potential, and has been proven to increase cognitive function, math test scores and language skills. Quite plainly, kids need music.
Article content
Music can be so many things, yet music in classrooms doesn't reflect that breadth. Canada is beautifully diverse and benefits from an extraordinary music industry with world-class artists, and yet the approach to music education may not be reflective of the students it serves. In financial circumstances such as these, sustaining music education is an enormous challenge and innovation is a pipe dream. If music education is to be the welcoming, creative and healing space kids need, we must provide the resources necessary to cultivate innovation.
At MusiCounts, we do what we can to help school music programs, but we need more systemic change in Canada to support students right now and into the future.
A teacher once told me that the music room is the heartbeat of a school. We must keep that beat drumming in a rhythm that best serves our kids.
Kristy Fletcher is president of MusiCounts, Canada's music education charity associated with CARAS and the Juno Awards. 
[ad_2]
Source link