Aussie music producer, singer-songwriter, and visual artist VNCCII has made a name for herself by breaking boundaries between music and technology. Amassing over 90k followers on Instagram, avatar artist VNCCII is blurring the lines between digital and physical and showing that the future of the music industry is about to get way more exciting…
Meet VNCCII…
If there was ever any doubt that the future is digital, recent years proved naysayers wrong. In 2020, we witnessed the COVID pandemic force our lives indoors and suddenly become reliant on our virtual devices just to get by. While we lived through 'unprecedented times' in the real world, queuing for hours and fighting over toilet paper, some found solace in another: the metaverse.
And from the metaverse comes VNCCII – an artist who, performing as an avatar, is using technology to change the way we're experiencing music.
'It was 2018 when I created this avatar identity to represent the music I was making,' VNCCII shares. 'I saw people like Travis Scott and his Fortnite performance, and I had this idea to create this character who would be a creative muse for me. When I create any form of art or multimedia music, I'm personifying this fictional character. It's really liberating.'
But behind VNCCII is just another woman busy 'navigating the world' like the rest of us. 'To break the illusion, my real name is Sami,' she laughs, adding 'There's something about the separation I like. I take on this persona and it gives a freedom and creative license to be larger than life. It's empowering.'
Performing through her avatar, VNCCII doesn't usually take to the stage in the way we've come to expect from our favourite artists, but she shares that there's still sprinkles of Sami across the work she does.
'VNCCII is this fictional character, but it's still very authentic to me,' she explains – and at this point, it feels like VNCCII takes a backseat as Sami chats to me over Zoom. 'It's my heart, it's my soul – and because there's that emotional gravitas, it's still authentic.'
I take on this persona – and it's empowering.
While it's true that you rarely see VNCCII taking to the stage – at least, not in her human form – earlier this week, the artist did just that when performing at Mastercard's Digital Junction. To celebrate their 25th anniversary as sponsors for the iconic BRIT awards taking place this weekend, Mastercard have launched their Web3 Accelerator programme – a campaign that VNCCII says will 'nurture the next generation of talent.'
'What I really love about this campaign is that it's focused on empowerment,' she explains. 'As part of the campaign, they're selecting five emerging artists and showing them how they can literally monetise their music and leverage technology.'
For VNCCII, the gravity of the stage she performed on isn't lost – and neither is the legacy of the BRIT school, who showcased some of their future talent at the event.
 'It was such a beautiful, iconic venue. That stage has history – you had people like Amy Winehouse, Adele, and all these amazing BRIT school alumni. It felt like a special night, and I'm honoured to help celebrate where we're going with the future of the music industry.'
That future will also see a changed landscape when it comes to how musicians own their art – a divisive subject matter in recent years. In varying degrees and to different extents, artists have been speaking out more than ever about having control over their own work. Taylor Swift has been forced to re-record her entire music catalogue, artists are blasting Spotify for not valuing their musicians financially (the streaming platform has rejected the claims, saying they were left 'depressed' and 'disappointed' by them), and independent artist Raye took on her record label after they delayed her first album, with Polydor Records responding to the claims in 2021 by sharing they'd reached out to her management team to offer full support.
So when it comes down to it, artist ownership really is a big problem. And it's a problem that VNCCII thinks could be solved with the help of technology – in particular, Web3.
For the technophobes out there, allow VNCCII to explain. 'Web 3 is really about several things' she says. 'From an artist's perspective, it's about the ownership economy. It's owning your own music and being able to control how you want to share that with your fans.'
Rather than rely on a chain of middle men – such as managers, streaming services and lawyers – artists can now interact directly with their fans. Technology within this new era of the internet can do everything from allowing fans to co-own music, to making sure musicians are paid fairly. A few years ago, those in the industry were wondering what Web3 would be. Now, they're wondering just how big it'll get.
In terms of the pyramid, artists are no longer at the bottom
'You can trace royalties, it's transparent, it's decentralised,' VNCCII explains. 'You have the power, you have the ownership over your digital assets, and you can decide how you want to sell your work.'
But whilst artists push for a fair and equitable music industry – a move strongly reinforced by BRIT sponsors Mastercard's new Web3 Accelerator programme – VNCCII doesn't think it will completely change the music industry, rather just bring it up to date. 'I feel like there's room for everyone. It's not like we don't need labels – because we do see some labels embracing these Web3 technologies. But I think it's a cultural shift. In terms of the pyramid, artists are no longer at the bottom.'
When it comes to being a woman in the music and tech industries, VNCCII admits that there have been certain struggles she's worked to overcome – but that there's also been a lot of good. 'Of course there's been barriers, but I've seen so many incredible women step up. Obviously, we still sadly have a way to go – especially for women in tech – but it's inspiring.'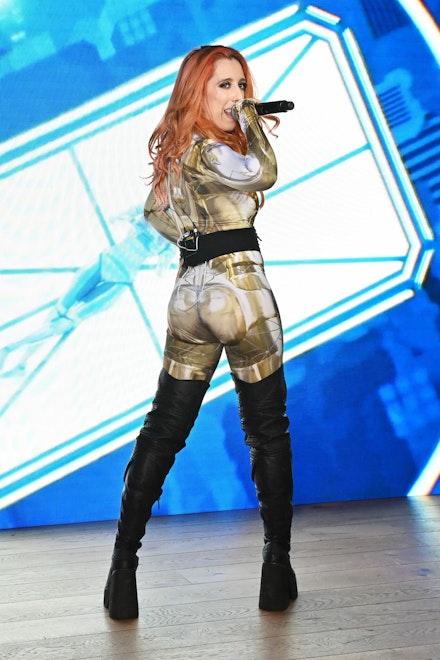 VNCCII taking to the stage
'For me, I started out as a singer songwriter and wanted to learn how to be a music producer. It took more than 10,000 hours and a lot of YouTube university to teach myself how to produce music,' VNCCII laughs. 'So to go through that journey as someone who wasn't trained, I had to throw myself in the deep end. I want to see women continue to embrace that mentality – because if we keep that up, eventually, whatever gap there is, it will close.'
It's clear VNCCII has a strong vision for her future, so where does she find inspiration? 'As an artist, you draw inspiration from everywhere' she says, 'A lot of it for me isn't even the music industry! For example, the name VNCCII was inspired by Leonardo da Vinci. I'm not saying I'm like him, not at all, but I'm saying it's an aspiration of a lifestyle. It's an aspiration for not siloing yourself. That's kind of my ethos with creativity, is just to blend everything together and be as imaginative as possible.'
But there are a few notable names in music who could be in the running for a dream collab with VNCCII one day. 'I would love to collab with Jacob Collier,' she reveals. 'Or Ed Sheeran – my goodness, he's an amazing songwriter.' And with the BRITS this weekend, VNCCII's already worked out who she hopes so see taking to the stage to pick up an award.
'I love all the artists that are nominated, so if they could all win that would be great!' she laughs. 'But Stormzy is awesome. I love him.'