It's fitting that Johnny Cash's life became a major Hollywood movie. The country music superstar found success after enduring tragedy (which became a major inspiration in his life), addiction, and forbidden love. It's a reason his songs resonate with so many people. Sun Records founder Sam Phillips gave Cash his big break in the music business. There wouldn't be a Man in Black otherwise, but Cash had mixed feelings about Phillips and his business practices, and he was right to see the good and bad.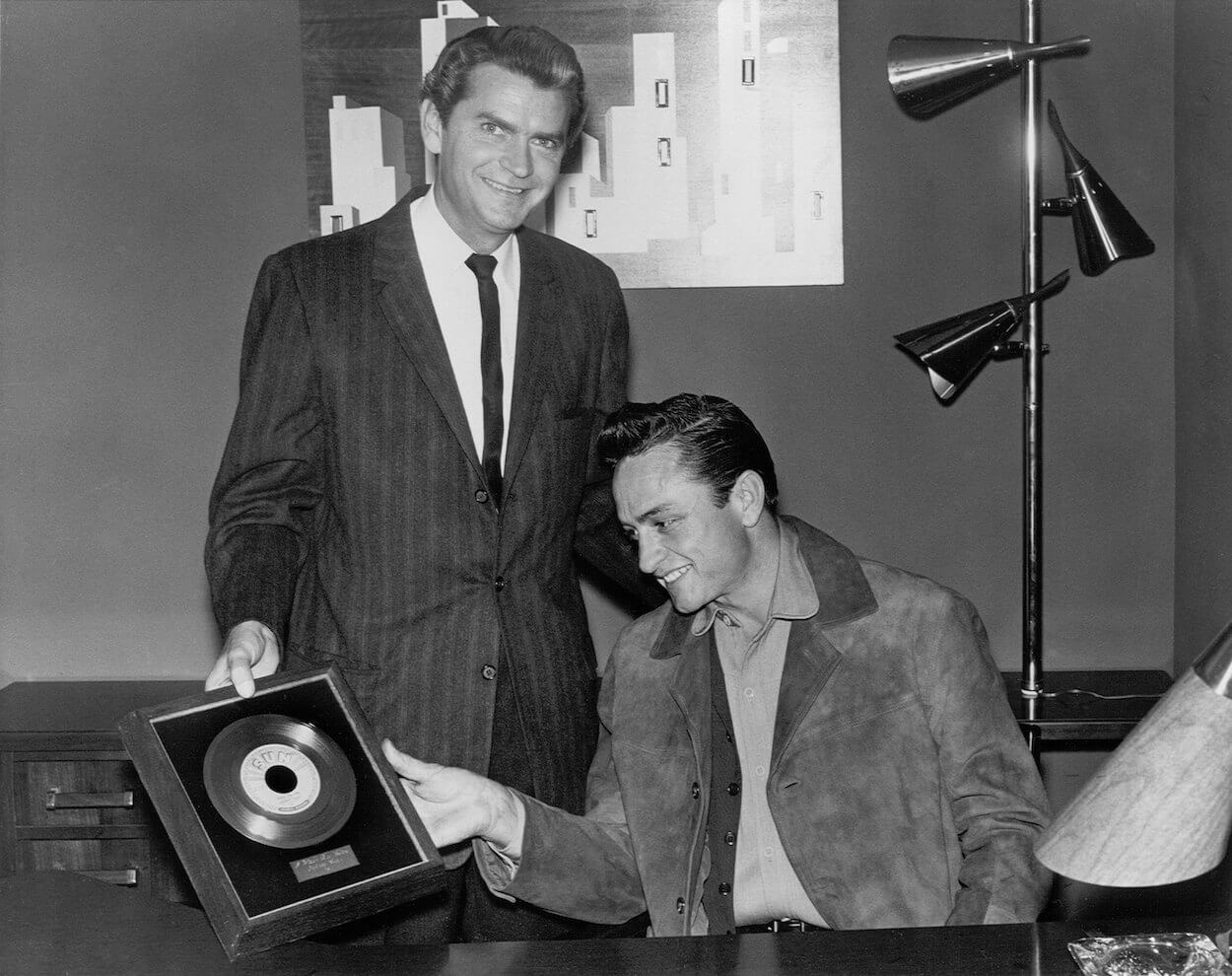 Johnny Cash admitted he had mixed feelings about Sam Phillips
Phillips was the kingmaker in the Memphis music scene of the late 1950s. The producer and Sun Records founder gave some of the world's most legendary artists their start, Cash, Elvis Presley, Roy Orbison, Jerry Lee Lewis, and Carl Perkins included. Rock 'n' roll and country music as we know it would look vastly different if not for Phillips.
Not only did he have an ear for talent, but Phillips possessed patience, too. He didn't throw in the towel when Cash needed 35 takes to finish recording his first hit single, "Cry! Cry! Cry!" The producer helped give the world Cash songs such as "I Walk the Line" and "Folsom Prison Blues." Yet as Johnny Cash: The Life and Legacy of the Man in Black author Alan Light reveals, Cash had mixed feelings about Phillips:
"My feelings about Sam Phillips are still mixed. I'm not sure he treated me properly in a financial sense … [But] if there hadn't been a Sam Phillips, I might still be working in a cotton field."

Johnny Cash
Phillips gave Cash his big break, and The Man in Black became a music legend. Still, Cash was right to have mixed feelings about the man who transformed his music career.
Cash was right to have mixed feelings about the way Phillips treated him
If not for Phillips' ear (and Cash's talent and persistence), we might never have experienced The Man in Black as we did. The producer deserves credit for taking a chance on an unknown guitar player and rescuing him from a life of working terrible jobs.
Cash is right that his life could have turned out much differently if not for Phillips. He is also right to have mixed feelings about Phillips.
Phillips shifted his attention away from Cash when new artists such as Lewis came along, Light writes in his book. It left The Man in Black wondering about his place in the Sun Records pecking order. Cash left a lot of money on the table with Sun. Phillips cut him in for 3% royalties on his singles; the standard rate at the time was 5%, Light writes. With young children at home, that 2% left out of his bank account was a substantial financial hit for Cash. 
The producer also stifled Cash's creative ambitions. He thumbed his nose at the gospel-tinged songs Cash sang during his Sun audition. Even after the singer found early success and generated money for the record company, Phillips still refused Cash the chance to make a gospel record. Getting a tacit green light to make a gospel album is one of the reasons Cash jumped to Columbia Records in 1958.
On the one hand, Phillips allowed Cash to pursue music as a career, which he always dreamed of doing. Yet the producer didn't cut a fair deal and stifled his artist's ambitions. Cash was right to have mixed feelings about Phillips because there was a lot of good and bad that came with his first recording contract.
The Man in Black cut several gospel albums when he left Sun Records
Refusing to let Cash record a gospel album might have been the biggest deal-breaker. The second album of new material he recorded when he jumped to Columbia was Hymns By Johnny Cash. 
With creative freedom at Columbia, Cash recorded several records of gospel songs, released three Christmas albums, and made one album, Bitter Tears: Ballads of the American Indian, about the plight of Native Americans in the U.S.
Cash's favorite album from his career was My Mother's Hymn Book, one of the final records he made before he died. It's likely none of them would have been recorded had he stayed at Sun.
Johnny Cash had mixed feelings about Sam Phillips, and he was right. The producer gave The Man in Black his big break, yes, but he didn't necessarily play fair and definitely didn't let Cash exercise his creative ambitions. 
For more on the entertainment world and exclusive interviews, subscribe to Showbiz Cheat Sheet's YouTube channel.