[ad_1]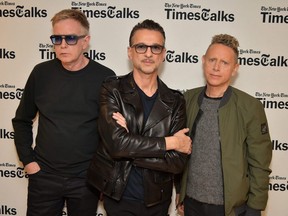 Article content
By Martine St-Victor
Article content
Even though we're in a period that could qualify as post-pandemic, there are many wounds that have yet to fully heal.
Businesses that haven't reopened, rhythms that haven't quite found their original beats and industries that to this day can't catch their breath.
The music industry, however, for the most part, got its groove back as new releases from artists are plentiful, streaming services have widened their offers and festival lineups are rich and diversified.
This past Wednesday night, Depeche Mode was set to light up the Bell Centre in Montreal. The city is one of 81 stops in the group's world tour, named after its latest album — Memento Mori.
Typing the words, at my age, is surreal. It's a sentence I could have written, with certain variations, over 30 years ago when I first saw the stylish British act live. And just over four decades after Depeche Mode's debut album, the band is still here, grey hair and extra pounds included (mine and theirs).
Article content
As a collective, and throughout its legendary career, the group has endured what many of its fans have as individuals.
Doubt, addiction and, almost exactly a year ago, loss. Andy Fletcher, an original member, died suddenly last May at age 60. If it's true that mature bands offer a comforting nostalgia when they tour, it's undeniable they also confront us with our own aging.
There is, however, a plot twist.
Aging yes, but not as a finality or as doom. Older acts are grabbing top billings just as much as younger ones, like the Harry Styles and Taylor Swifts who are also criss-crossing the world and selling out venues.
What these aging artists offer is a different type of lived experience — one that complements that of their juniors. The stage and its bright lights double as a reflection of what happens away from it. Like in the workforce.
Article content
The excitement over seeing old favourites hit the road made me think of government efforts to recruit retired teachers and nurses in response to the labour shortage.
This started at the peak of the pandemic when hospitals were more understaffed than usual and teachers were leaving the profession at an alarming rate.
Trying to bring back these professionals suggested that perhaps our view of aging and what is considered "old" was short-sighted and dismissive — and the allure and energy of youth need not to be to the detriment of seniority.
It also reminded me that the way many of us think about work is wrong.
Working to live? Not if you love what you do. Depeche Mode's Martin Gore and Dave Gahan are in their 60s. They presumably don't need the money and yet the band continues to put in the work while being as relevant and good as ever, grey hair and extra pounds and all.
Article content
Just like the rock stars who came back to help save our health care system and schools.
I've always loved shows for their power to bring together people who may have nothing in common except for their shared love of the music they came to hear. With an act like Depeche Mode, I look for solace and nostalgia.
What I got, just by knowing I would attend the Montreal show, was a mélange of all that and a new outlook on aging and the importance of choosing to do in life what we really love — so that, 40 years on, we're still willing to do it even if there were setbacks along the way.
We have a tendency to celebrate successes while often glossing over the reversals that were also part of the journey.
Depeche Mode shows us that success may come with scars that have yet to heal and that you can still hear.
And that's what makes the music still beautiful.
Martine St-Victor is general manager of Edelman Montreal and a media commentator.
[ad_2]
Source link