[ad_1]
There's so much someone's bookshelf can tell you about them: what they choose to keep and what they don't, how they arrange their books, even the covers — maximalist or minimalist? Readers select their books carefully because books take up space. Every reader has, at some point, complained about running out of space. The act of curating one's personal library then is a privilege. What form does it take? A cosy reading nook with bright shelves, or an armchair next to dark mahogany shelves? A big desk to write on? Here's Magazine's curation of a handful of private home libraries recommended by our writers
One book to read, another to lend
Aanchal Malhotra
Historian and author | New Delhi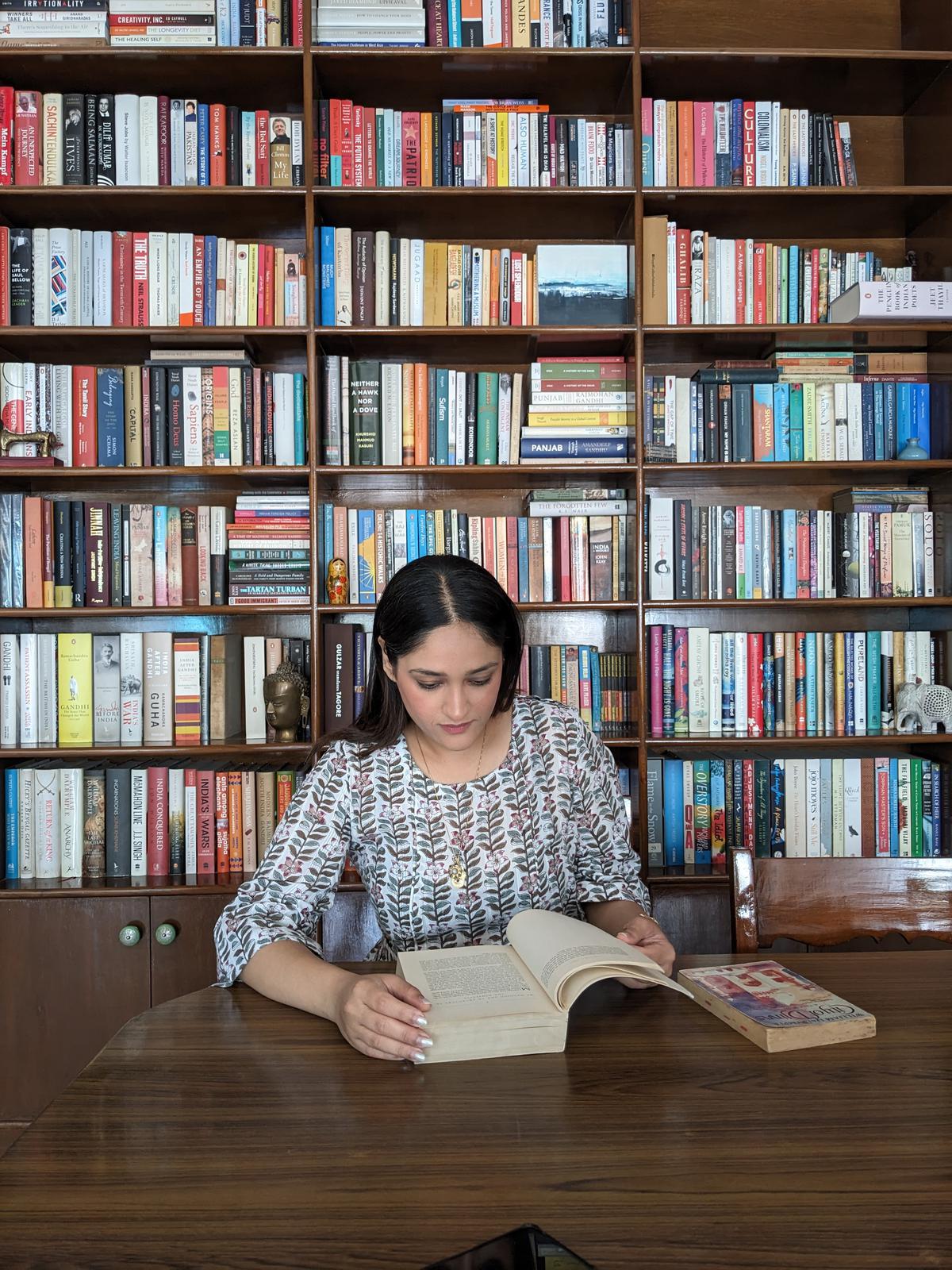 Aanchal Malhotra remembers how, back when she lived in Canada, she'd been worried about how expensive books were there, and her father had said to her, "Buy nothing else, but please don't even think about not buying a book if you want it."
Today, many of those books line Malhotra's bookshelf. A historian and writer, she says a lot of what she buys is in line with her research, and her shelves are lined with hardcovers of some of the most acclaimed non-fiction titles. She knows where every book is, and as we talk, she moves easily from shelf to shelf, pointing out books she's loved: "I'll always buy everything Anuradha Roy writes," she says, or, pulling out a copy of The Story of a Brief Marriage by Anuk Arudpragasam, "I've gifted this to so many people."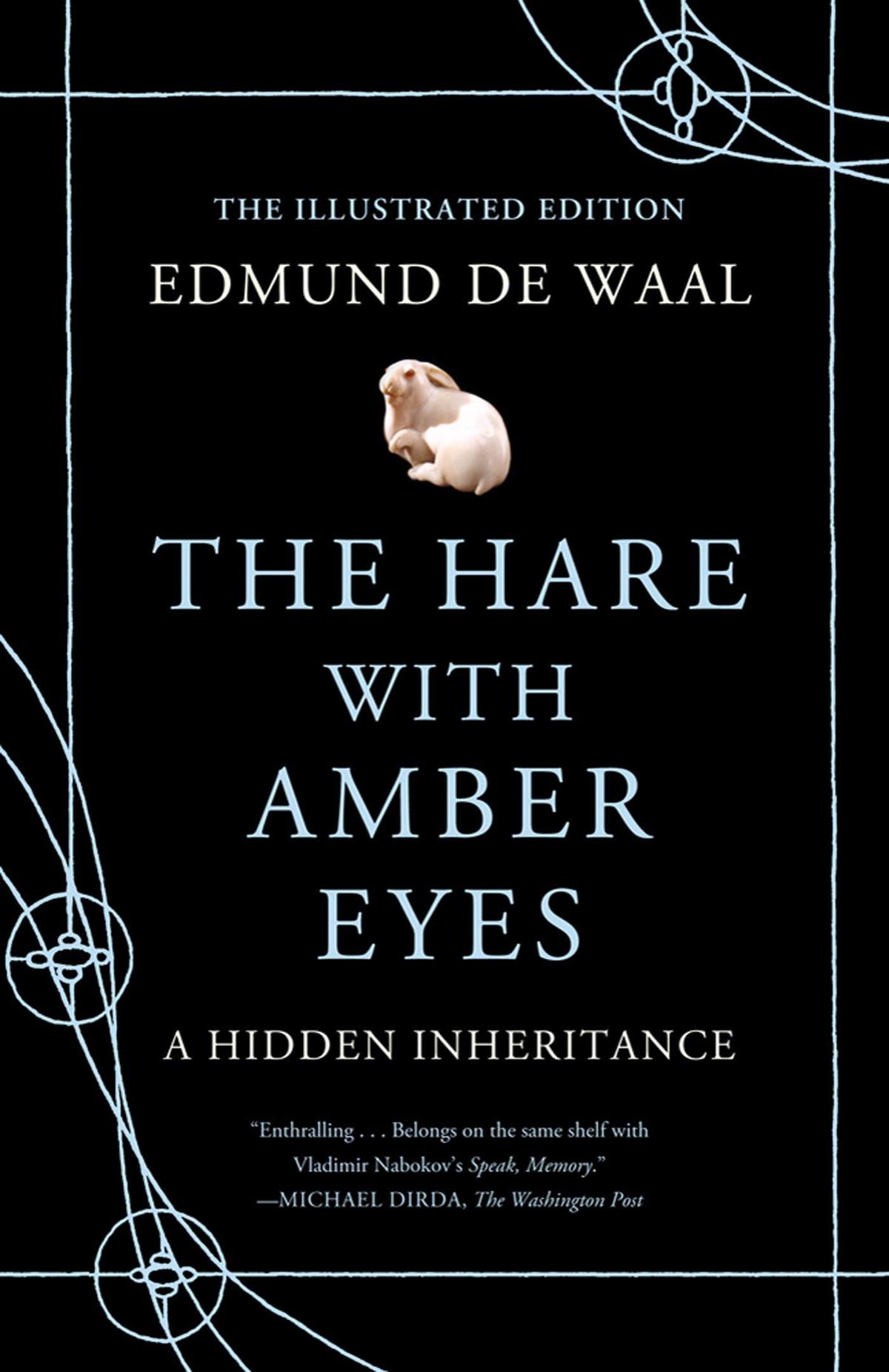 When I ask her to show me a book that she loves, not just for the story, but for a memory attached to it, she pulls out The Hare with Amber Eyes by Edmund de Waal. She recalls being invited to his studio, and the author giving an illustrated studio copy of the book to her, complete with a note.
There are several other gems in Malhotra's collection: a beautiful 1994 edition of City of Djinns by William Dalrymple, with delicate illustrations by Olivia Fraser, and Leonard Woolf's autobiography of the war years, Beginning Again. This is, truly, a personal collection, and like most readers, Malhotra is protective about the space. She prefers buying new copies of books for people instead of lending her own, and ensures that every book goes back to its spot on her shelf.
Quoting books in Parliament
Manoj Kumar Jha
Rajya Sabha member and professor | New Delhi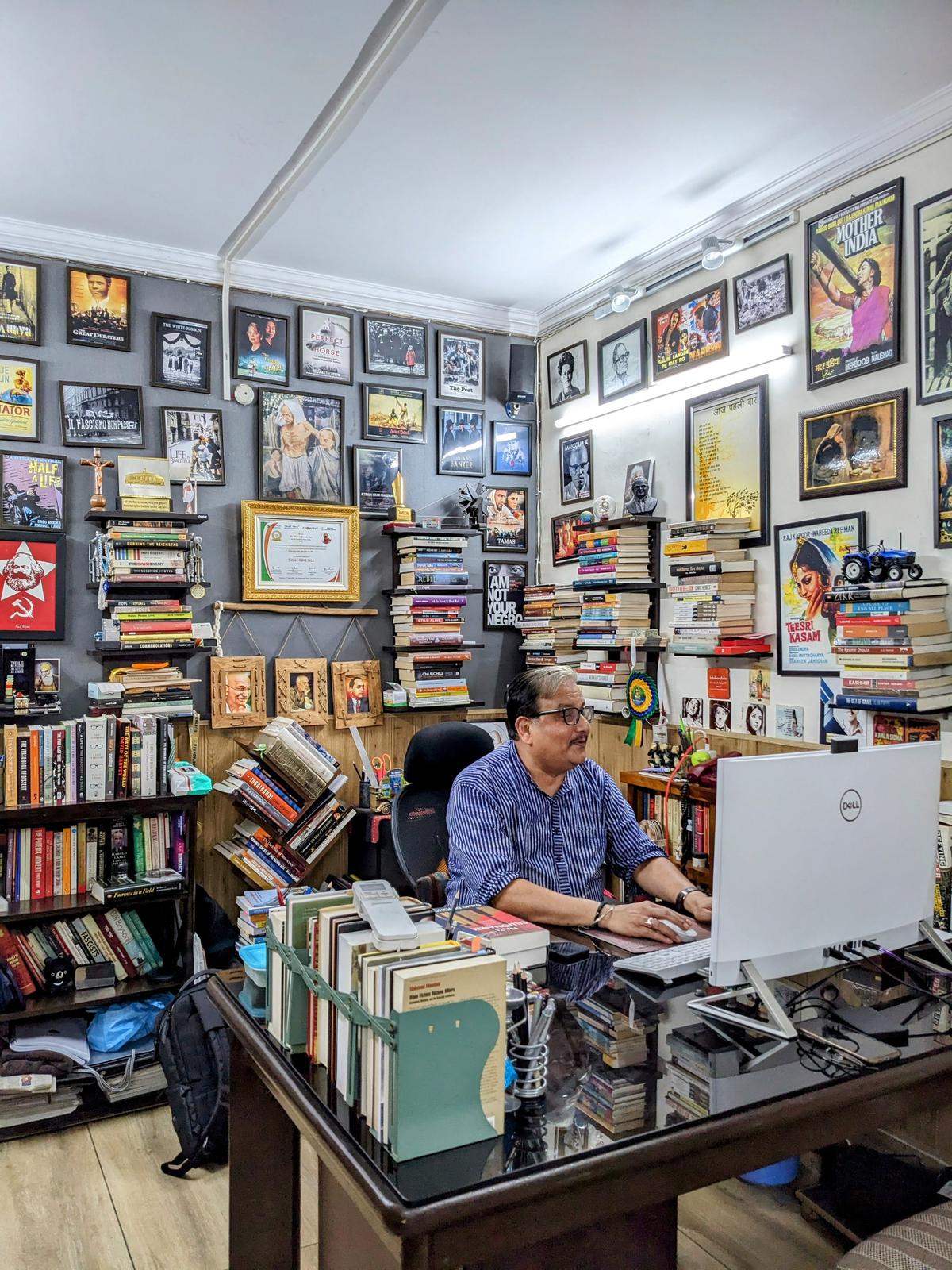 Almost every inch of Manoj Kumar Jha's office on Pandara Road is covered with books, posters and memorabilia. In the beginning, your eyes go everywhere, somewhat stunned by the riches. And then, as you settle in, you begin to pick out the titles: the latest Julia Boyd, A Village in the Third Reich, as well as several other books on Nazi Germany, many critically-acclaimed biographies — a genre Jha says he is especially fond of — and entire sections dedicated to volumes on Indian politics.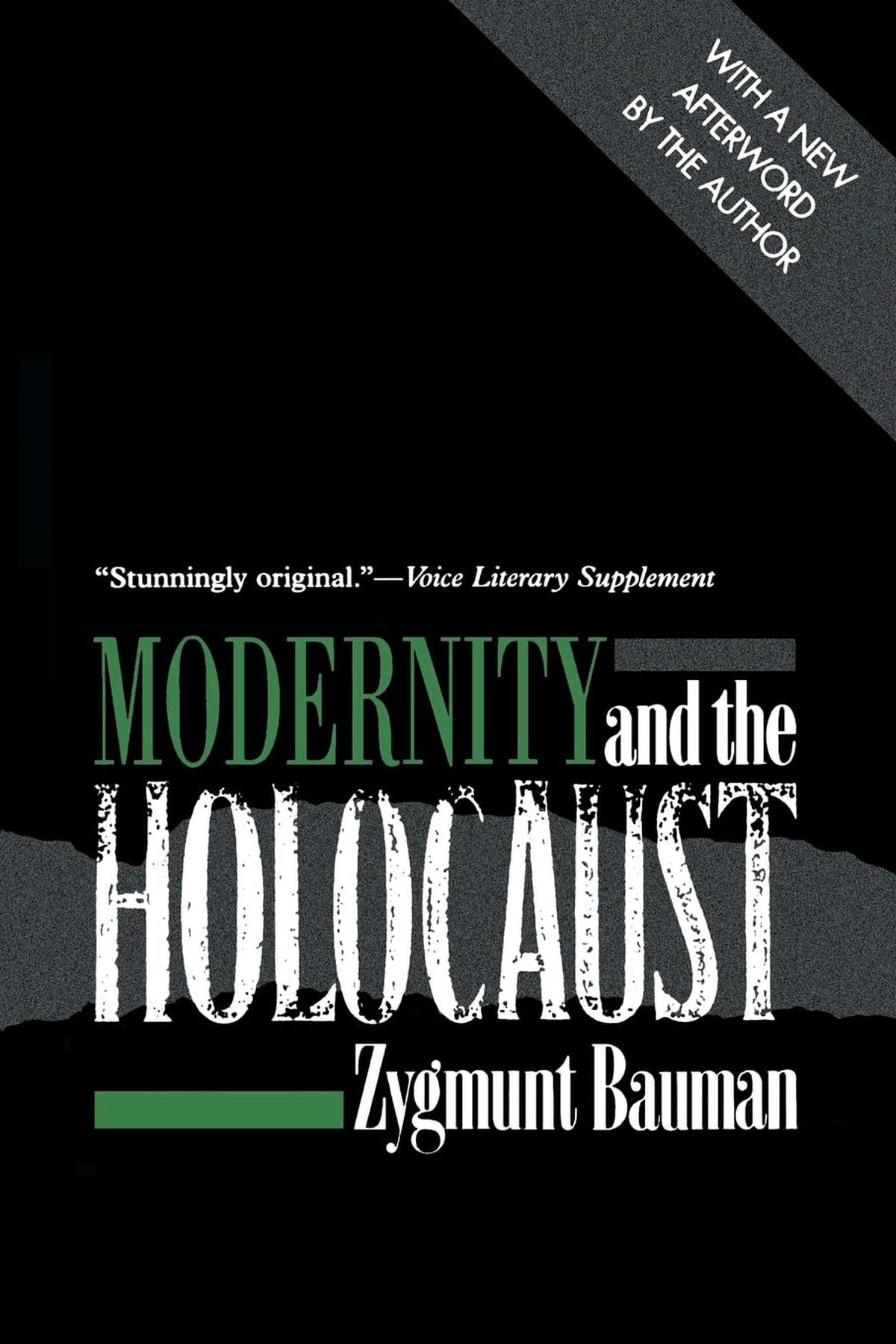 Jha reads a lot of fiction, too. In fact, there was a phase when he was a great fan of Erich Segal's The Class, but he's always preferred serious fiction. He's also a fan of Rahi Masoom Raza. "I've read all his books, and my philosophical and political ideas have been shaped by him." In the past decade, Jha has expanded his reading on the Third Reich. "I'd read Modernity and the Holocaust by Zygmunt Bauman, but that was a one-off." Since then, witnessing the developments in his own country, he became tempted to read more on the subject.
I ask him about the posters on the wall, and he says a lot of them are from a time when he, along with a student of his, was working on a project examining the idea of representation of Muslims in India cinema, and how it had changed over the years. The posters, he says, don't just tell you of the times they are from, but when he looks at them, it's the present he thinks of, and his hopes and fears for it.
Jha often quotes books in Parliament. "I feel by quoting a book, you are actually giving evidence." He often receives copies from authors who want him to review their work, but also, perhaps, quote it. And while he does lend his books, he's very protective about them. "I can part with my clothes, but not my books.
— Swati Daftuar
Books from ceiling to floor
Ranjit Hoskote
Poet | Mumbai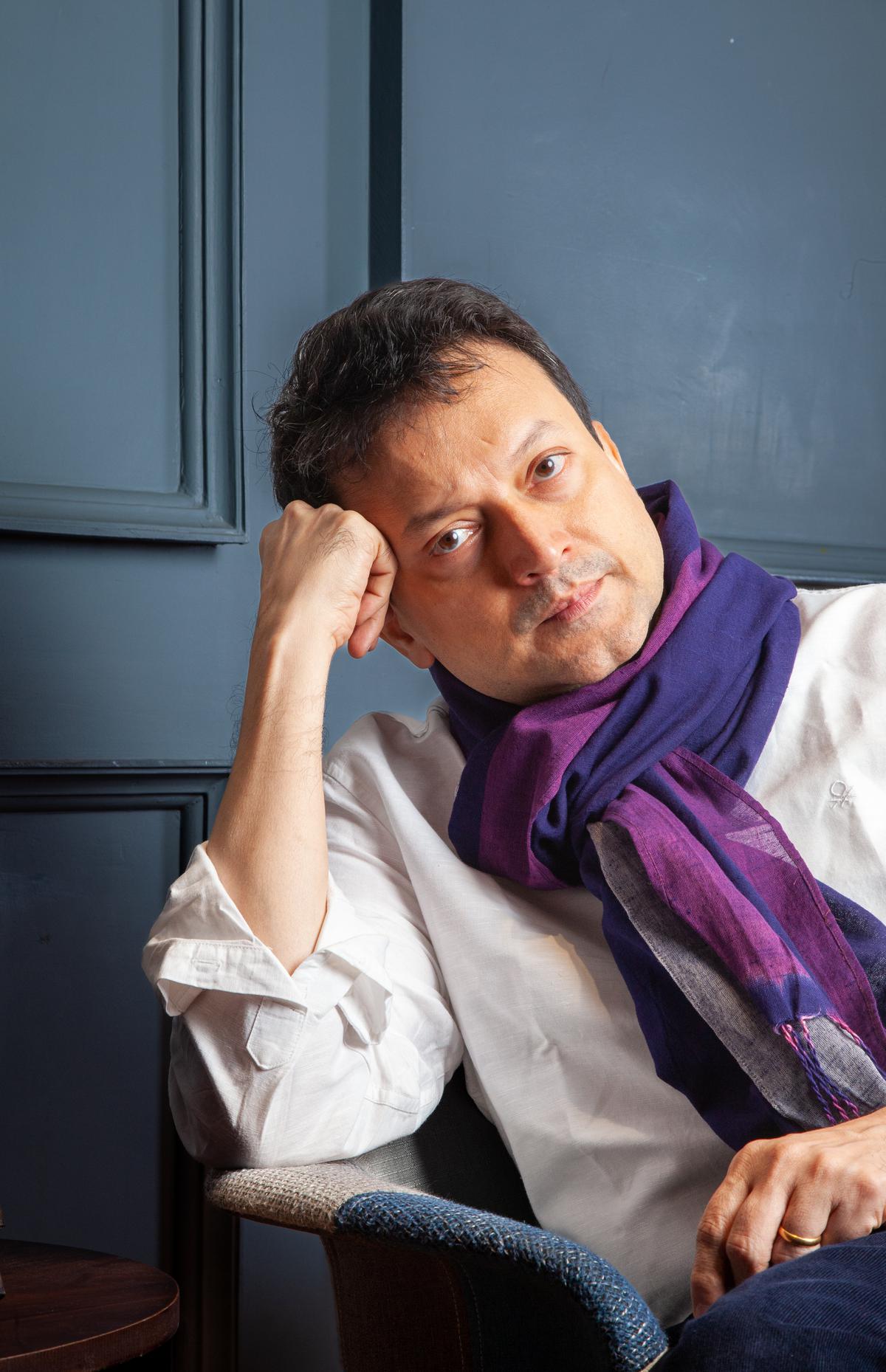 The two libraries I would always visit, especially in my teenage years, were Arun Khopkar's and Mehlli Gobhai's. Arun's library was multilingual. It was amazing to look at all his Russian books. He had a very strong connection with Eisenstein's legacy and the Eisenstein Centre in Moscow. He was a polyglot, and had books in English, Russian, German, French, Marathi. A special book in his library was The Collected Works of C.G. Jung.
A library is a quartet of your mind. Mehlli's library had the most amazing surprises. He had a spectrum of interests. You would find everything from art history to a biography of Peggy Guggenheim, to alchemy, in his library. A special book in his collection was Kirk Varnedoe's A Fine Disregard.
Speaking of libraries, I have to mention the pavements of Mumbai. You could find a complete Ibsen and the bookseller would tell you that he got it from someone in a chawl who had books from the floor to the ceiling and had to eventually give them all up.
— as told to Radhika Santhanam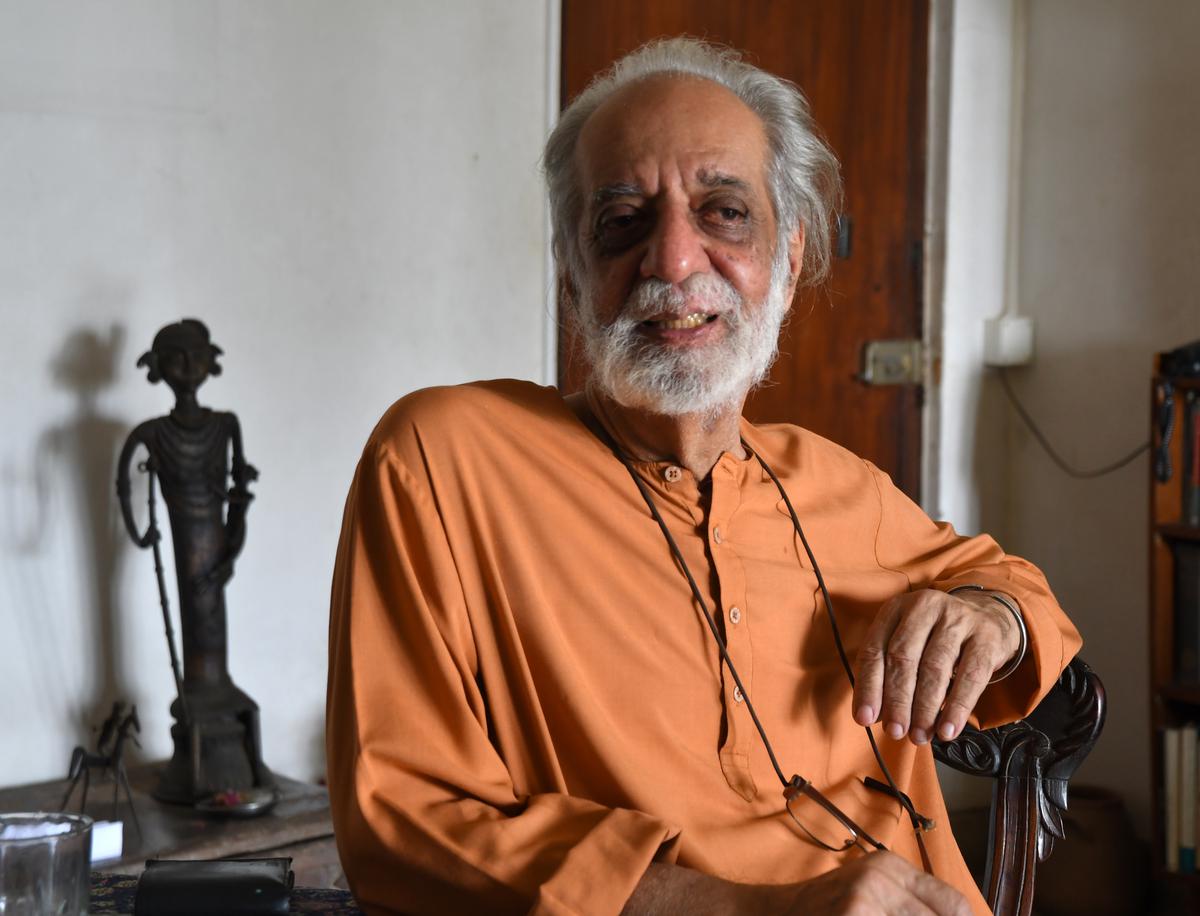 "It's difficult to give away books nowadays. Even libraries don't want books, they say they have no space. So, I don't know what's going to happen. Now, where do writers' libraries go? In the case of poet Arun Kolatkar, an invasion of termites compelled him to give away most of his collection to friends. After his death, Marathi writer Ashok Shahane, who was his publisher, retrieved them from those friends and got them placed at the Bhandarkar Oriental Research Institute in Pune. Playwright and poet Nissim Ezekiel's private collection at the PEN Office at Theosophy Hall was given to the premises of the Indian Committee for Cultural Freedom, of which he was an active member. After a few years, that institute gave away that collection to the library of a private club in Bandra."Adil JussawallaPoet
Unprotected, and on display
Aakar Patel
Journalist, activist and author | Bengaluru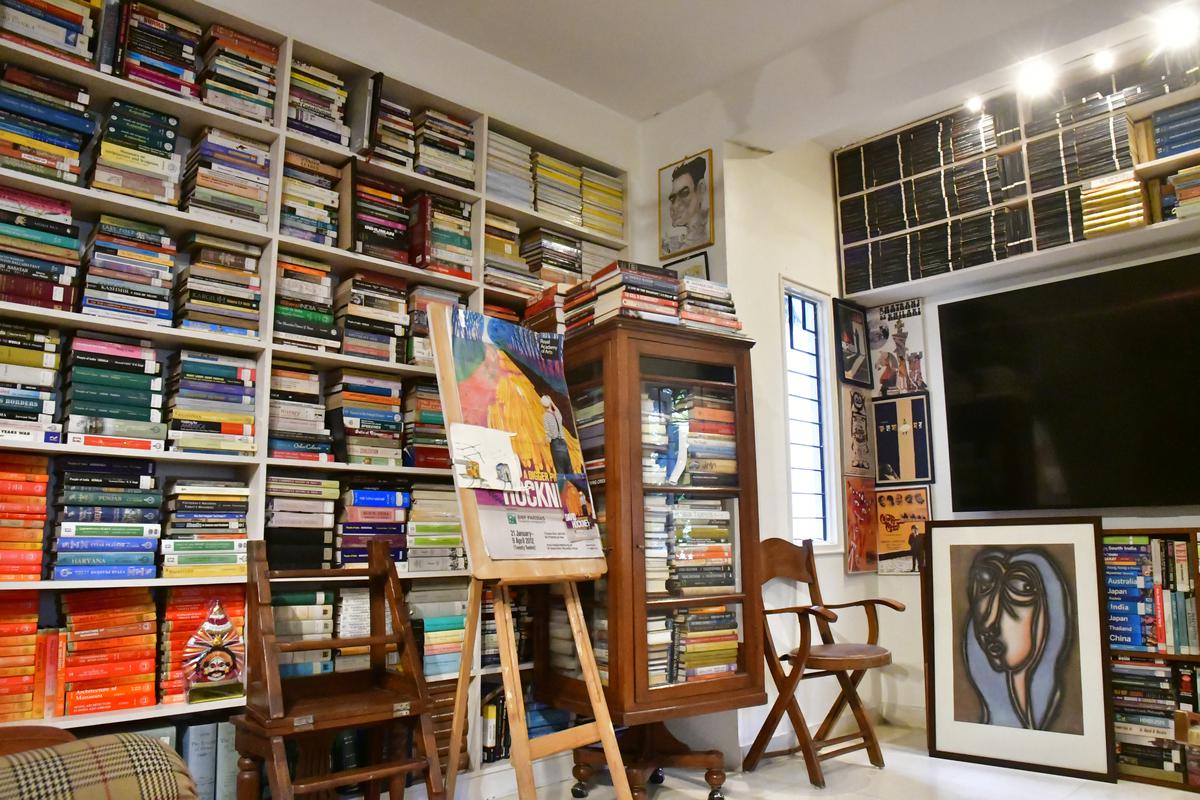 Libraries at home are autonomous beings that can either tuck themselves into the spaces around them or subsume them altogether. Author, activist and former head of Amnesty International in India, Aakar Patel's is the latter. You will find books outsizing most shelves, climbing out of crevices and even rising from the floor. He will tell you there is a method to the madness and that he knows which title is where. Except, only he has the password.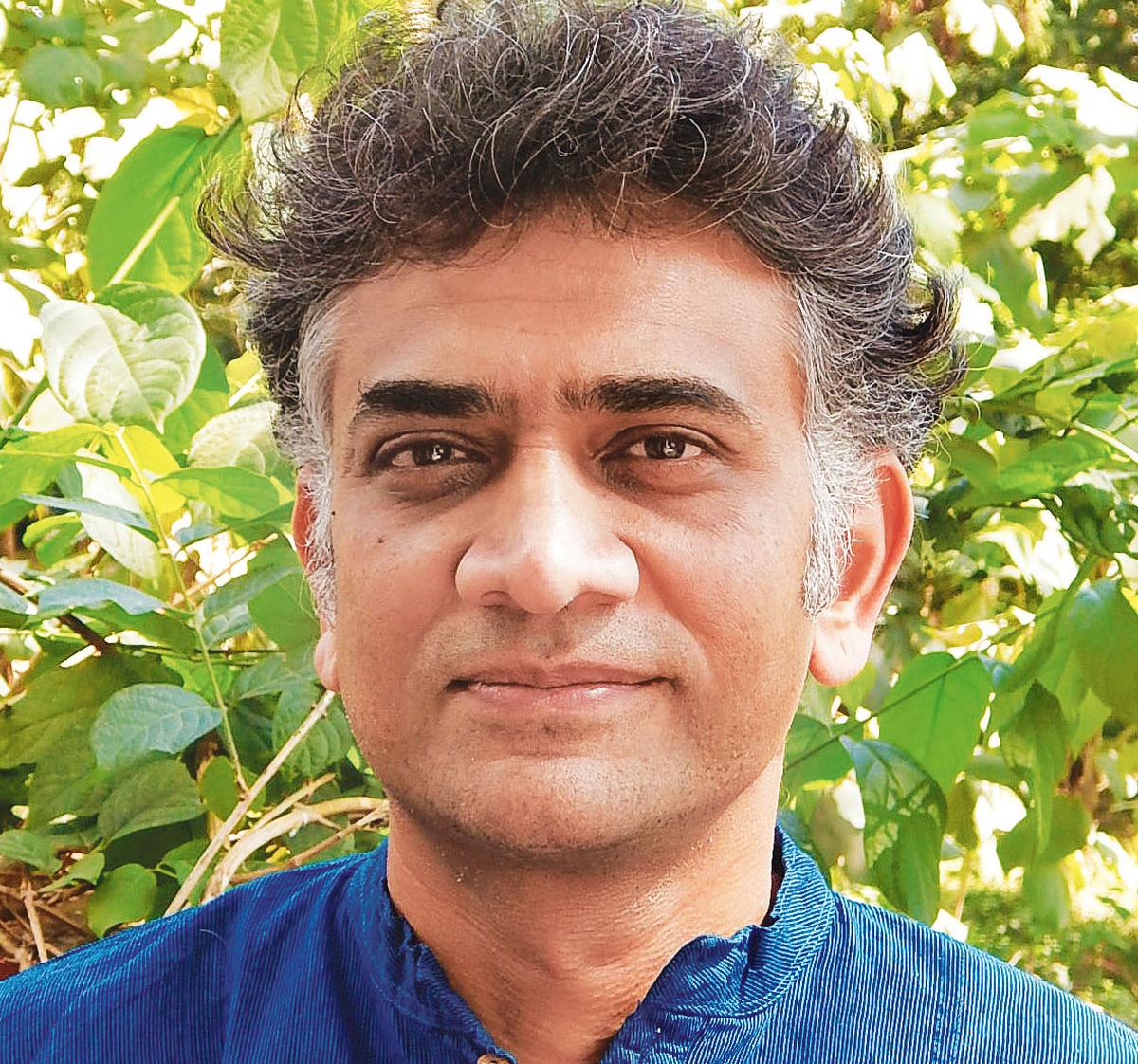 He tells me, "Books are a treasure we put unprotected on display." Now, don't go asking him the lame question 'Have you read all of these?' Being a collector transcends that query. Besides, as a wise person once said, the unread books make for an increasing wonderment and curiosity. You will find broad sections on the classics politics and history. But I have secretly leched at the rows of rare biographies that he stacks.
Clearly these read and unread stockpiles — what the Japanese charmingly call 'tsundoku' — have made Aakar the fertile mind he is. "These horizontally bricked shelves are the sign of the hoarder or the addict," he tells Magazine. "Why I Write: Essays by Saadat Hasan Manto is the one closest to me, because royalties of the translation are shared with Manto's daughters in Lahore."
— Aditya Sondhi, a New Delhi-based senior advocate and collector of books
Book wrapt and happy
Srilata Raman and Christoph Emmrich
Academics | Puducherry and Toronto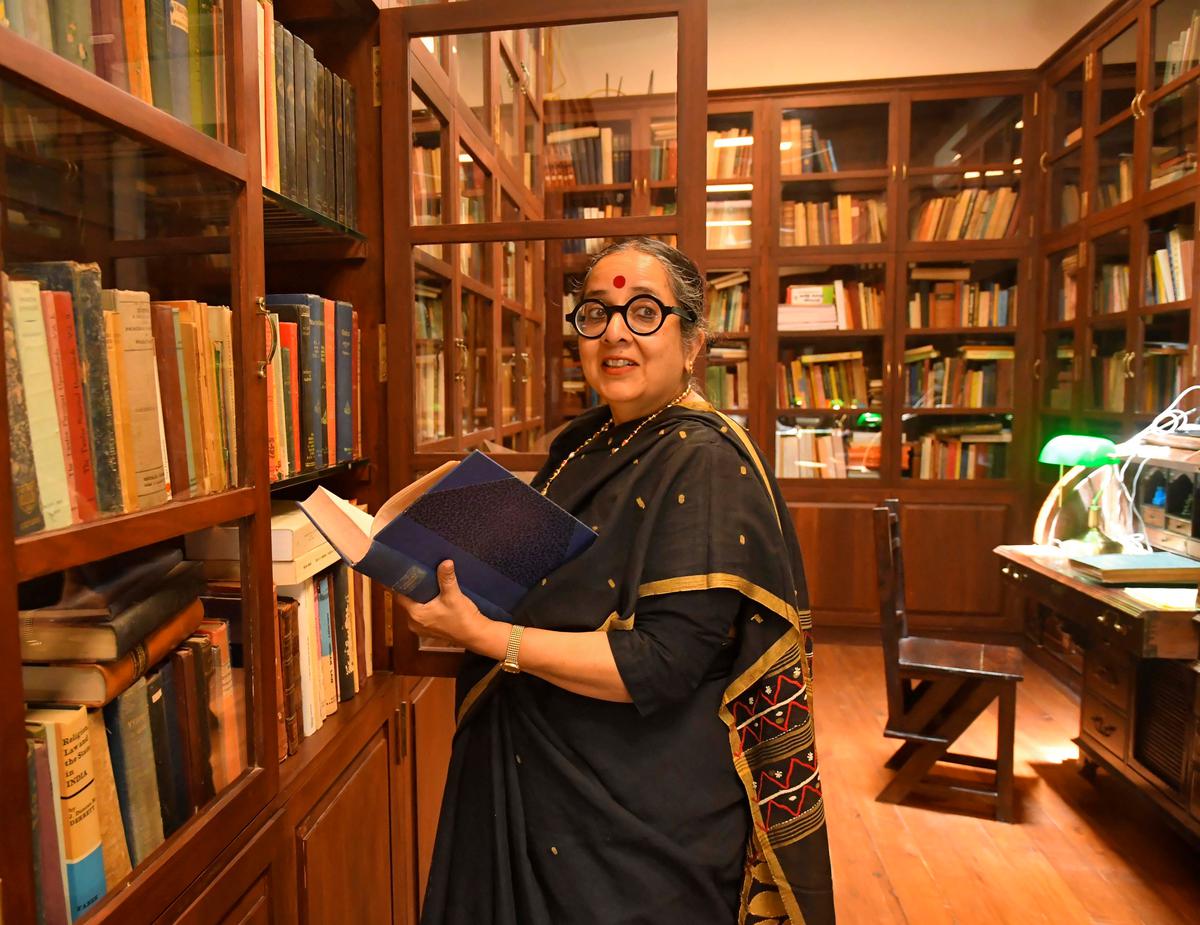 Srilata Raman and her husband Christoph Emmrich are academics based out of Toronto, Canada, who have a sensitively-restored house in the Tamil quarter of Puducherry. Colonial furniture juggles with film photography and posters as well as traditional brass lamps. The home built around a courtyard leads up to the first floor where the private bedrooms are. Here is the jewel in the crown: a library enclosed in an airtight space. Both academics have wall-to-wall cupboards with books on Indology and associated subjects.
While Srilata's research areas are South Indian Vaishnavism and Tamil Saivism, Christoph's interests are in Nepalese/Burmese studies and South Indian Jain culture. The room has beautiful furniture, a classic green table lamp and the warmth needed for burrowing one's head in research.
Christoph says, "The library at Puducherry is a reclusive space, it shuts the world out and allows only books as your companion, but the skylight above allows for a vertical shaft of light in direct communion with the world outside." Srilata loves the smell of old books and the fact that she can "lose myself in them for hours".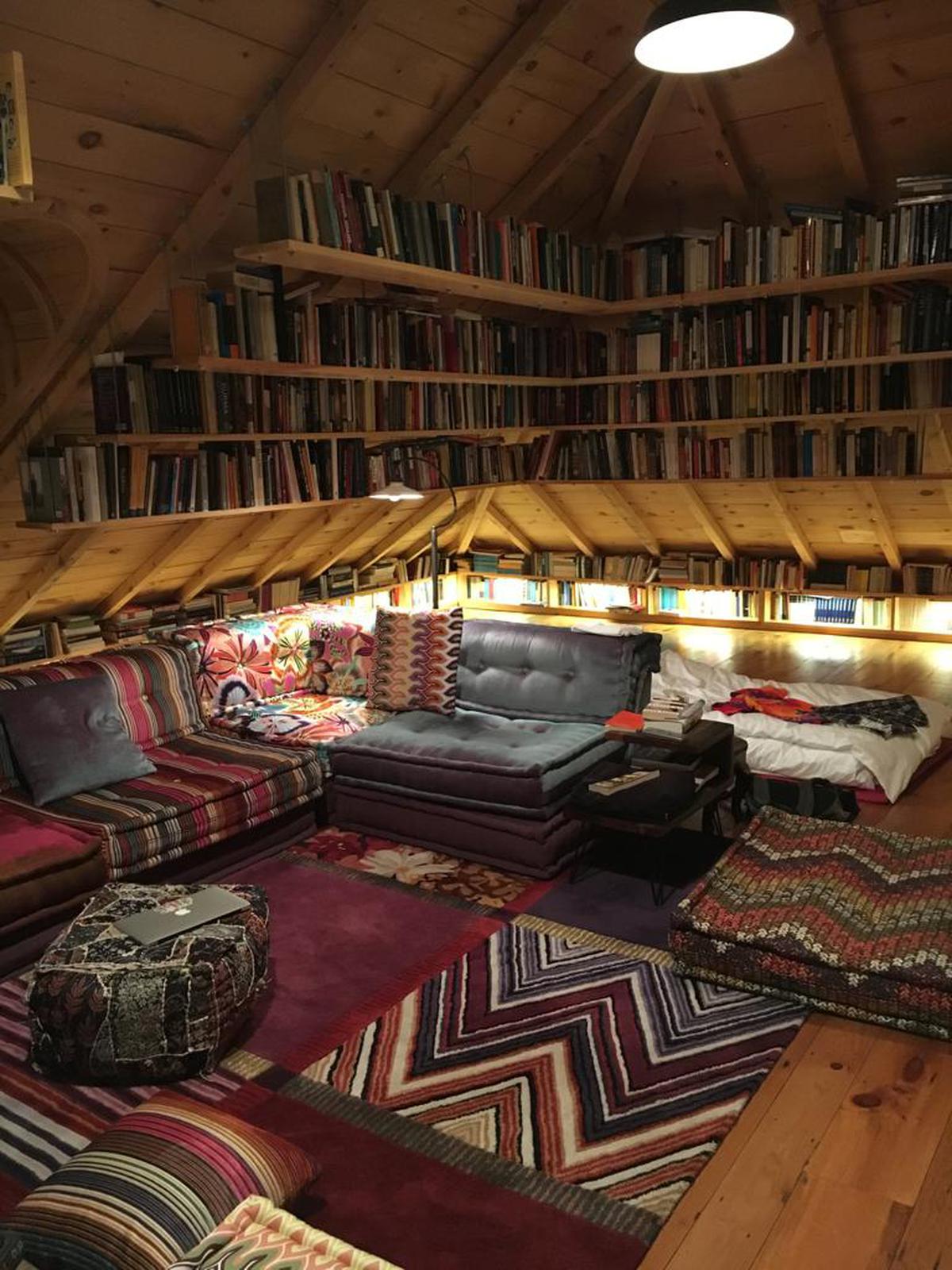 Their home in Toronto has an attic converted into a library, which I visited while it was a work in progress. Now, however, it has been in design magazines as a space of light and comfort. Low seating in the form of a Roche Bobois' Mah Jong sofa reminds one of Indian-style mattresses, while the slanted walls are covered with bookshelves.
For the library in Toronto, the couple made a conscious decision to keep work out — no printers or desks, just a space for reading, being with people, listening to them, and music, and for deep contemplation and being with one's thoughts.
— Ranvir Shah, cultural activist and founder of Prakriti Foundation.
Building a 'holocaust collection'
Naveen Kishore
Poet, writer and publisher | Kolkata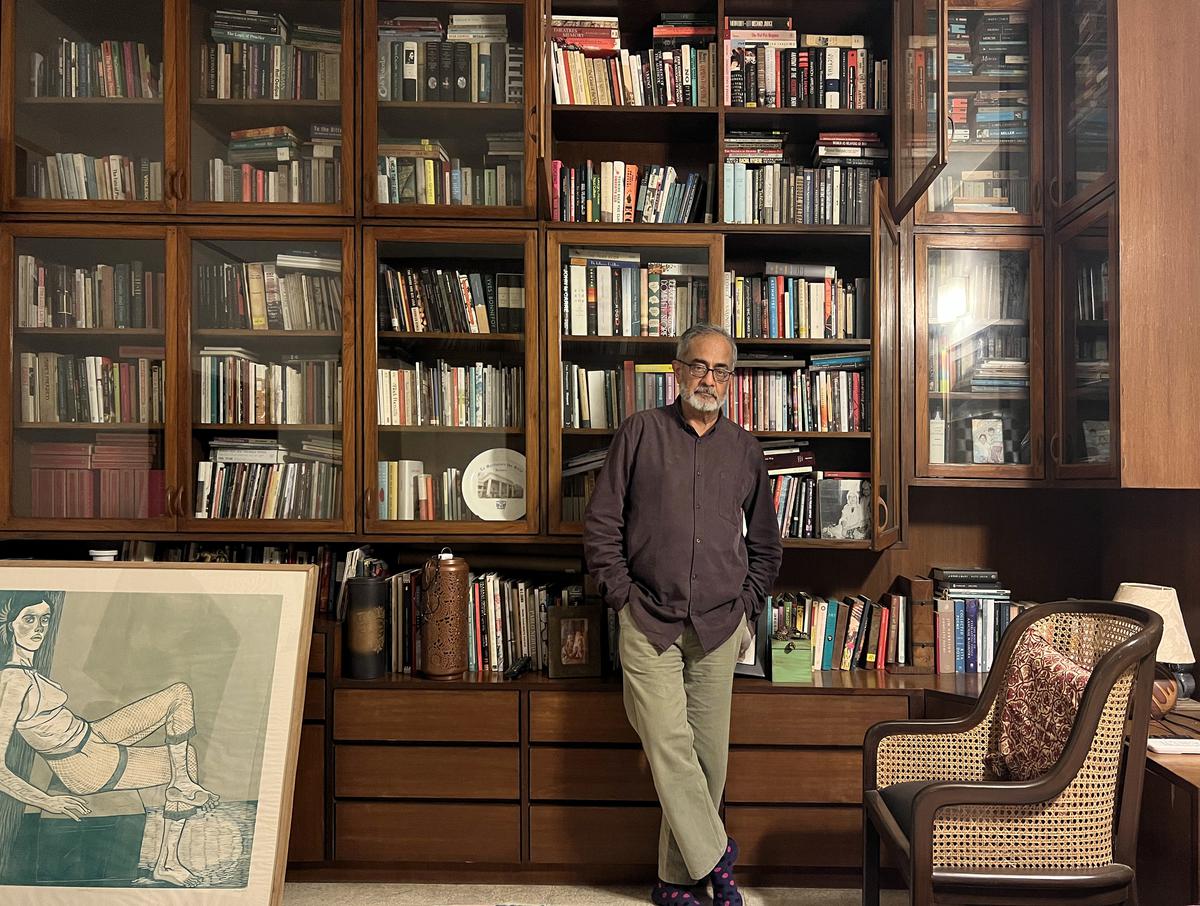 Like many others, I always read beyond my years. A father who devoured books — from Louis L'Amour to Mickey Spillane, with loads of James Hadley Chase thrown in — and a much older sister on a staple diet of War and Peace and Crime and Punishment helped, long before the navy blue-and-gold classics that featured the Count of Monte Cristo and Bleak House would make their way into my heart. All this by the time one was 12.
Later, a librarian called Mr. Sinha at Hindi High School would find me the only two books that actually had fungus on them as students were not interested in reading them — Thus Spake Zarathustra and The Rise and Fall of the Third Reich.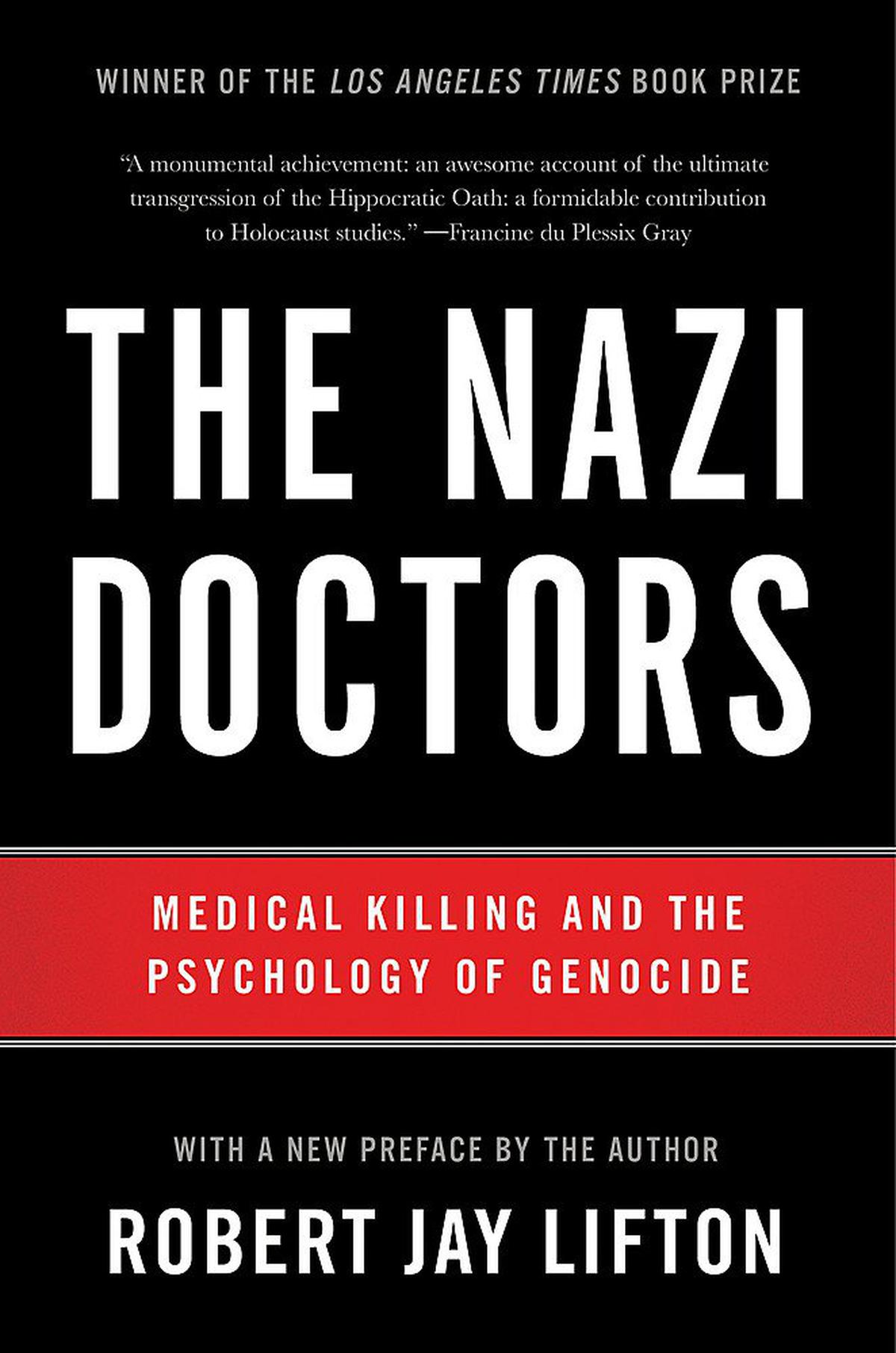 In many ways, both would go on to shape my life in books: as a reader and a publisher-reader. These would also lead me to books on the one single event of immense horror second only to Hiroshima and Nagasaki — the holocaust. I started to read everything I could lay my hands on, and I began to build this vast collection of literature on it. The one book that has influenced me and shaped my inner being is Robert Jay Lifton's The Nazi Doctors. Much later, I would publish books that dealt with this inhumanity.
College and literature honours would open up a world of other cultures, translations from European languages, non-fiction, essays, poetry, and later, my stepping into the world of drama would open up books on theatre, design, scripts, cinema and fine art. Books have a way of enveloping one in the 'thoughtful'. It teaches you to live a life of ethics.
— as told to Sudipta Datta
More rooms to fill
Sriram Panchu
Lawyer | Chennai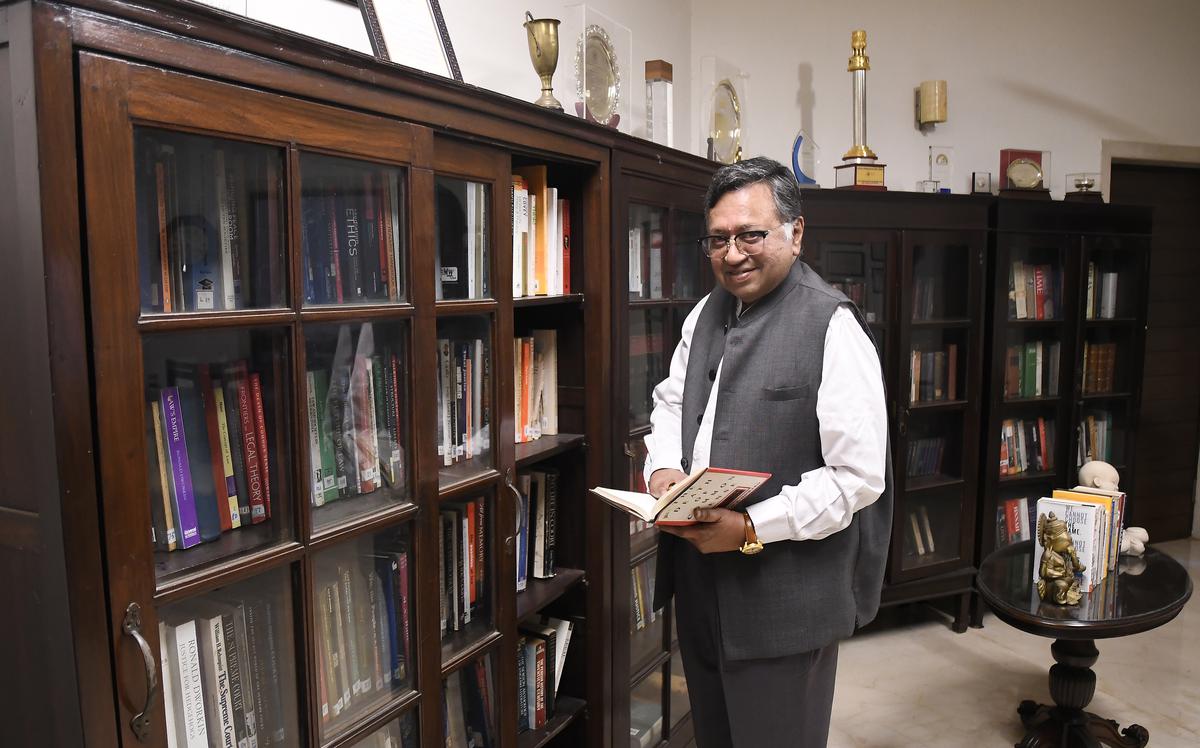 For the last 30 years, senior advocate Sriram Panchu has been promoting mediation and mediating as a method of dispute resolution. He's a constitutional and commercial lawyer and also does public interest litigation, pro bono.
Sriram has a wonderful library in his chambers on the ground floor of his residence. There is an entire cupboard full of classics from 1925 that he inherited from his grandfather. Another cupboard holds legal texts. Besides this is what he considers essential reading for anyone in the legal world — biographies and autobiographies of judges and other legal luminaries. He often reads here but also has space in his house, in the reading room. The library continues upstairs with books on a wider range of interests — history, Partition, economics, environment, literature, and of course, fiction, with many detective series from The Saint collection to Alexander McCall Smith. There are more rooms, he says, to fill up as the need arises.
— Ranvir Shah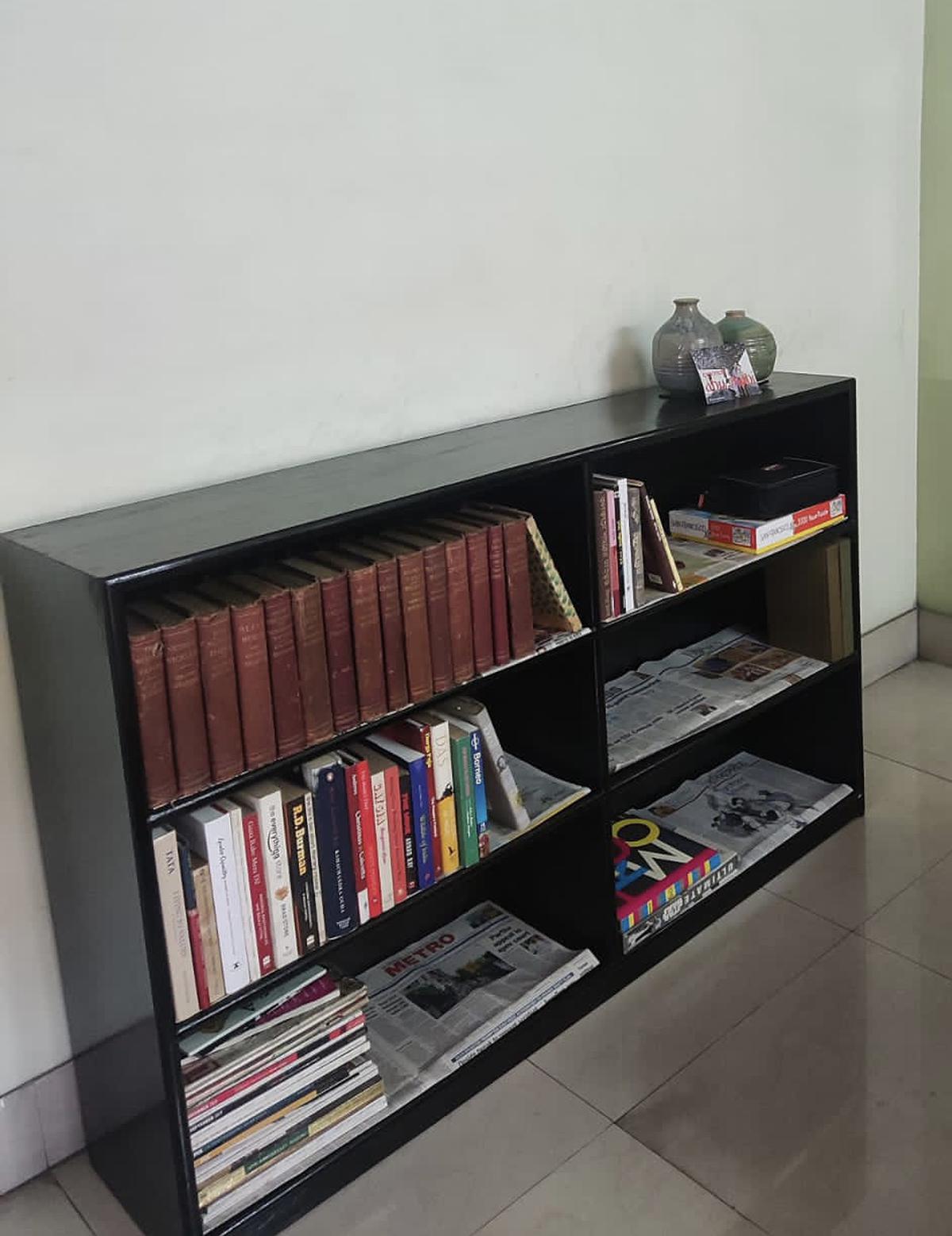 "Orphaned books without a home always give me a pang. Recently, I heard about someone who had passed away in Kolkata. His apartment was being sold and the books were being given away. He was not someone I knew — Somnath Zutshi, a scholar and psychologist in Kolkata. I went, against my better judgement (since I already have too many books), to look at the books, determined not to take more than one or two. And I saw a huge collection of old Charles Dickens books, hardbound, maroon with gold lettering, and a golden crown on the cover. I was going to pick up a couple for my sister who did her Ph.D on Dickens, but it just seemed criminal to let them go to waste or to separate them. So, I picked them all up and got a new bookshelf made (in pic) so they could all have a home together.  "Sandip RoyAuthor and columnist
'Loved, used and sat on sometimes'
Jerry Pinto
Author and journalist | Mumbai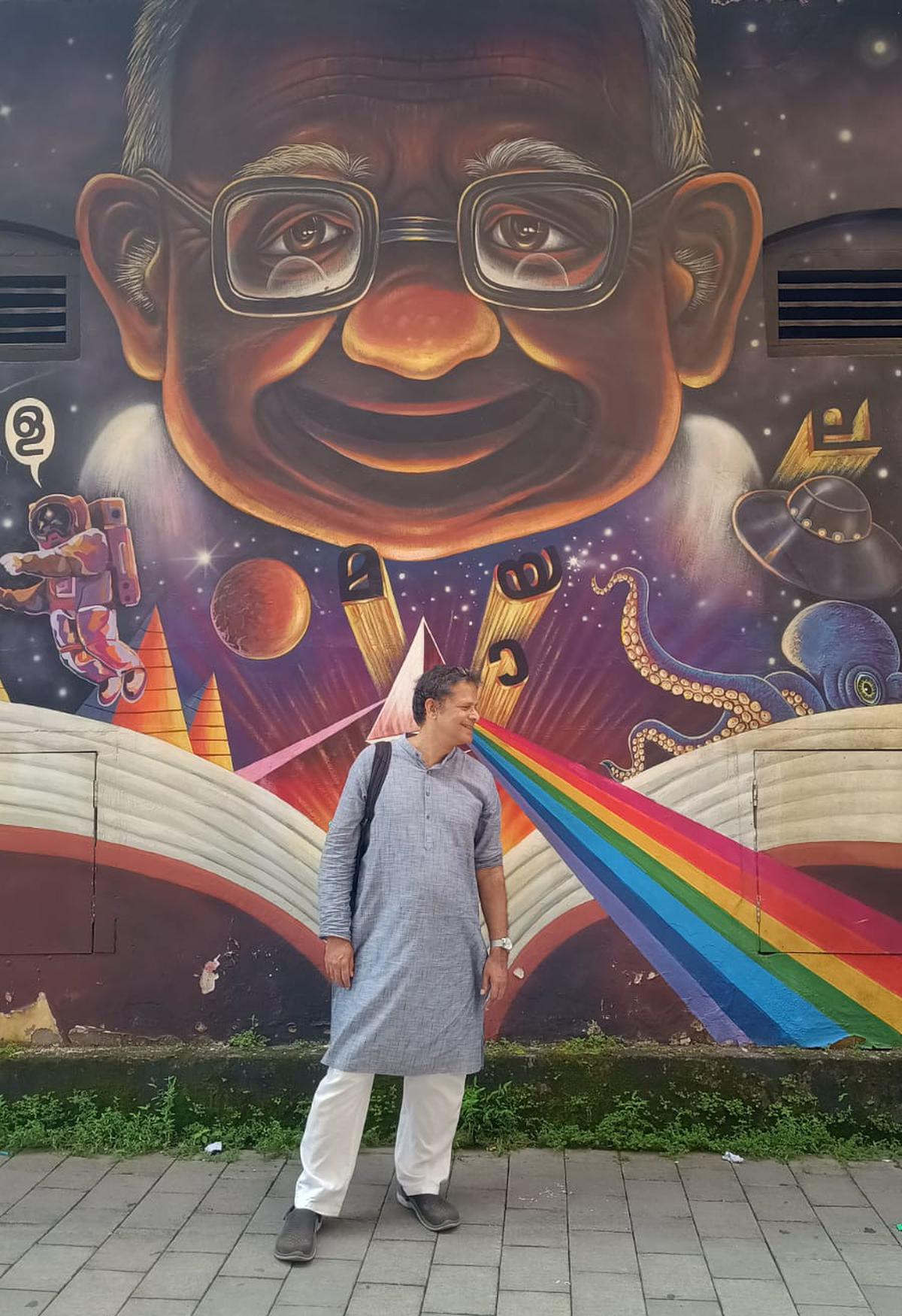 The first beautiful library I remember is Ramesh Chandra Sircar's. Sircar was a theosophist who ran the Theosophist Lodge at New Marine Lines in Mumbai. His books were not just beautifully arranged, but he would be able to take one down, open it, and tell you the name of the person who had typeset it. He would say, 'Look at the way there is a quarter of a space left between an 'n' and an 'm' here'. He had that kind of attention to detail. What was precious about his library was that it was openly accessible. He would let you borrow books freely.
The second is Arun Khopkar's library. Khopkar was a filmmaker and scholar. My only problem with his collection was that he had many of his books covered in plastic and I found that slightly claustrophobic. But he wanted to keep them clean. I don't mind my books having a little wear on them. I don't mind my books showing me that they have been loved and used and sat on sometimes and treated with the absorption that a book can produce.
There is also Naresh Fernandes's library. Fernandes is the editor of Scroll. I remember Priya Kapoor of Roli Books telling me that if you ask Naresh for one reference, he will send you two books from his library. When I was going to China for the first time, Naresh dropped by with a book on the sextons of Beijing.
— as told to Radhika Santhanam
A private sanctuary
Shanta Guhan
Textile connoisseur | Chennai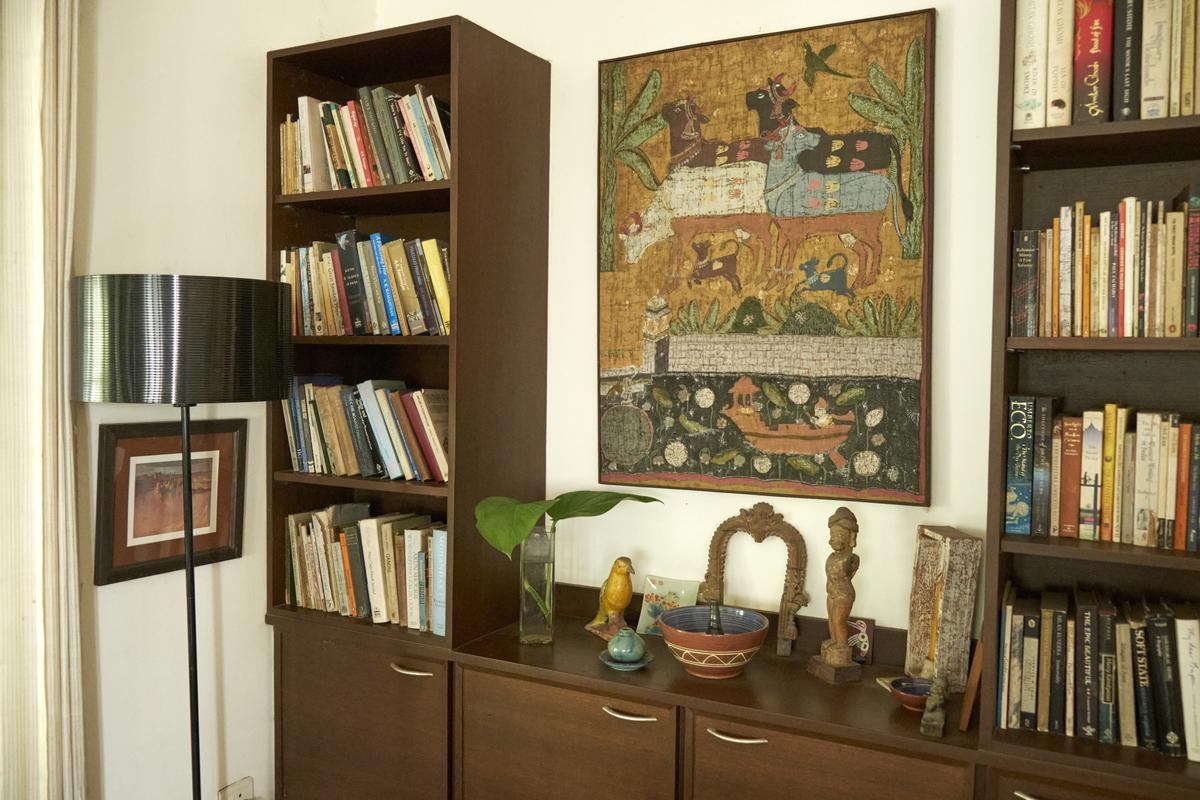 Shanta and Guhan are very well-travelled. They were in South India and then travelled to Washington where Guhan was with the World Bank. After that in New Delhi, at a senior IAS position before his penultimate posting as advisor to K. Karunanidhi, when he was chief minister of Tamil Nadu. Their interests varied as did their friends, from A.K. Ramanujan, the poet academic, to Amartya Sen, the economist.
Between their worlds existed friends who were dancers, musicians, textile experts and artists of all kinds. Shanta now lives alone with her cats Valli and Billi after Guhan's passing. Being a textile enthusiast as well as a crafts lover and an aesthete of the highest order, her library shelves groan with books on these subjects.
Nammalvar's poetry sits with books on riverine politics in India. "The poetry books are Guhan's. Biographies and drama are mine. He was into the political lives of Gandhi, Ambedkar and Nehru," says Shanta. Coffeetable books on various subjects are strewn all over. There are titles on dance, textile art and photography.
A lot of collectibles that Shanta has accumulated over the years sit beside the books. Fragments of a pichwai, brass lamps, a little wooden garuda, leaves and flowers in small ceramic containers all seem to enhance the books in the shelves.
Shanta says, "Books are my passion. I really don't know what I would do without them. The last book I enjoyed was by Pico Iyer."
Once I was lent two books by Shanta — one on Virginia Woolf and another on Ramanujan. A few months later, she gently reminded me to return them. A few more years have passed. She's forgotten, but I better return the books that need to go back to the repository of knowledge that is her library.
— Ranvir Shah
The traveller's pick
Gautam Bhatia
Lawyer and author | New Delhi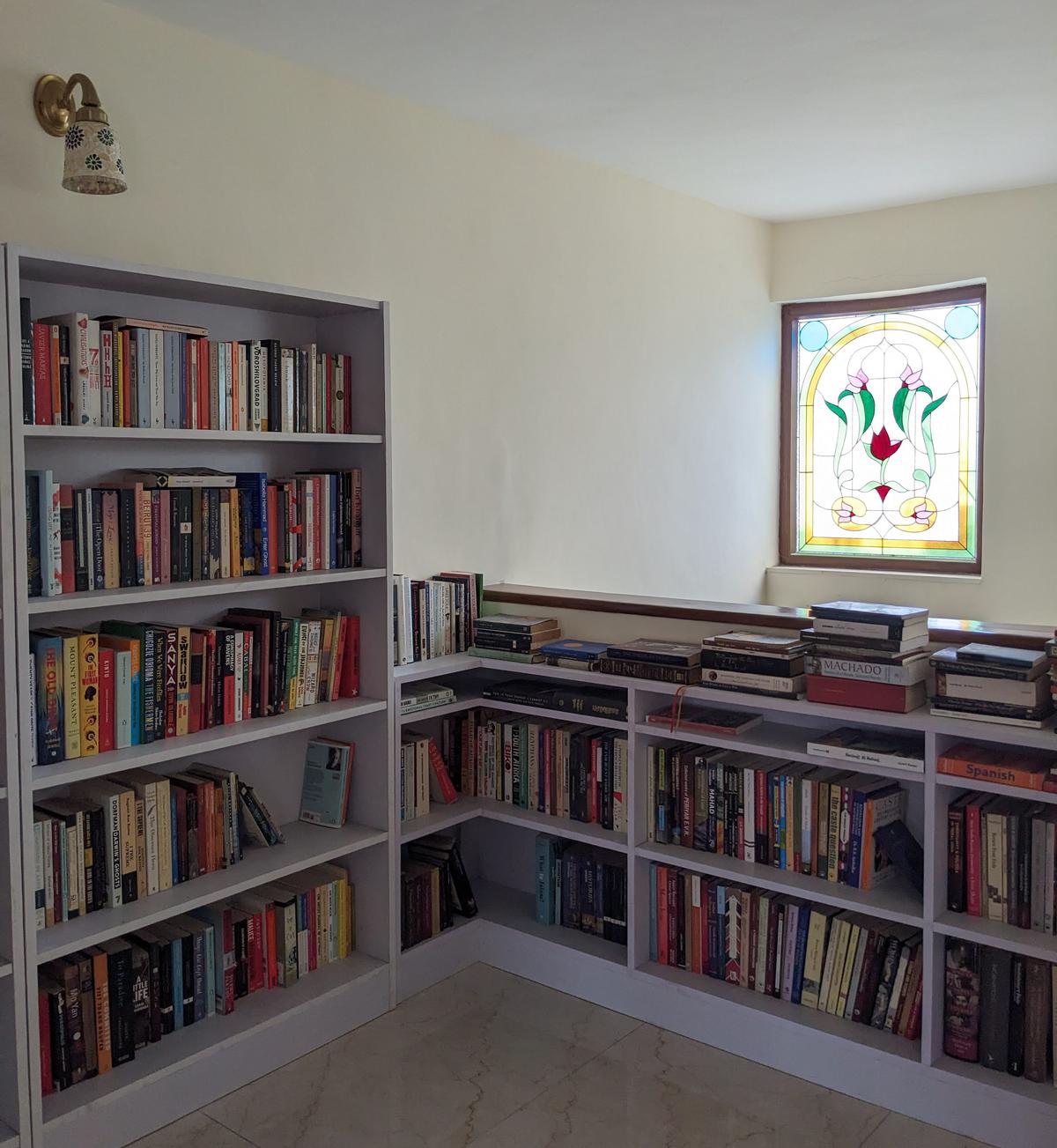 Around 15 minutes into our conversation, Gautam Bhatia pulls open a cupboard. It's one of those big, impressive affairs with dark wooden panels and the air of having been around for a long time. Inside, there are old editions of The Chronicles of Narnia series, some Ursula Le Guin, an illustrated and beautiful edition of News from Nowhere by William Morris, stacks of Terry Pratchett, and fantasy fiction he's read and loved growing up. Just a couple of steps away stands yet another bookshelf — more fantasy and sci-fi fantasy (SFF), a mix of classics and contemporary volumes. This is the shelf of dreams for readers of this genre — methodically arranged, it's got classics and anthologies, Anglo-U.S. fiction, books from China, Germany, India, East Europe, West Asia, Palestine and more.
Bhatia's home seems to unfold as you move through it, and you spot more spaces and corners given over to books. It's not just the cupboard. A slant-top writing desk in his bedroom doubles up as a bookshelf, too. This one is filled with left-wing literature — everything from political economy to writings on democracy and the environment.
While books on SFF and law dominate his shelves, an open space on the first floor of his home has bookshelves along the wall that boast titles across genres, arranged geographically, rather than by genre or themes. "My mental landscape is oriented towards geography. I travel quite a bit, and when I'm going somewhere, I ask people what they'd recommend from that place." Downstairs, in the living room, on Bhatia's writing desk is a beautiful carved book holder from Uzbekistan.
Unlike so many readers, Bhatia says he is far too unprotective about his collection. He likes lending his books to other readers, likes having them browse his shelves, and holds meetings of the Delhi SF Book Club in his home, after which, members are free to browse his shelves and even borrow a copy or two.
— Swati Daftuar
[ad_2]
Source link